If you're planning on giving your pet a special treat this holiday season, check out my suggestions for SUPER cheap or FREE pet toys that your cat or dog may love (mine did). Just for my readers, I've also included a photo of my two cats playing with a straw. Cost – $0.99 for a box of 50.
With the holidays coming up, we're all starting to think about what presents to give our friends and family. Fortunately, not all gifts have to be expensive. And even more fortunately, if you're giving gifts to your four-legged friends, they are a lot less picky than mothers. He
Here are 7 great gifts that are cheap (or even Free) that your cat or dog may love to:
Cheap or Free Cat Toys:
A drinking straw – preferably the kind that bends. I stumbled across this idea purely by chance. I happened to leave a drinking straw on the counter, and a few days later I noticed that the straw was on the ground and noticeably chewed up. Both of my cats are attracted to the sound the straw makes when it's drawn across the floor, and they like that they can bite it. Just make sure that you replace the chewed up straw with a new one before they start eating it.
Estimated cost: You can buy a pack of bendy straws from your local grocery store for about $1.00. Free if you don't use your straw from your latest fast food visit.
A reusable grocery bag. I found that my cats enjoy playing with the re-usable grocery bags (the kind that are woven) more than regular, thin plastic bags. The material is sturdier and more rigid, so it's easier for them to see a space they can crawl into. Since the bag is thicker, it stays dark on the inside, letting them feel like they're hidden.
Estimated cost: Several grocery store chains, such as Giant or Safeway, sell the reusable bags at the check out counters for $0.99 – $1.99 each.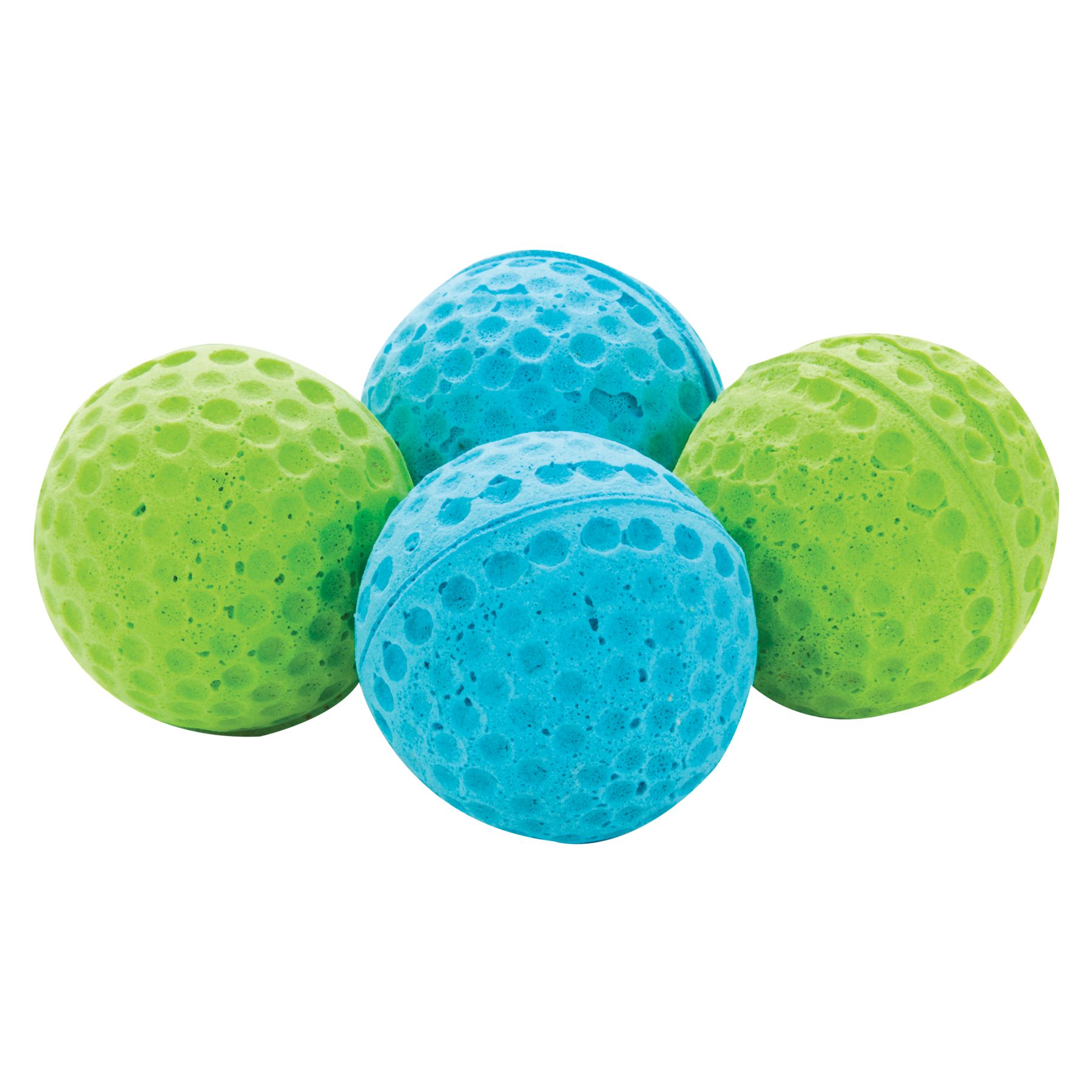 Small foam balls or balls with bells. Both of my cats love playing with balls that bounce and balls that make noise. The foam balls let them carry it in their mouth. The balls with bells excite them as they jingle all over the house. I suggest getting a variety pack of balls so you can see which ones your cat likes best.
Estimated cost: PetSmart offers foam ball cat toys for $2.99.
Used wrapping paper. This gift is the easiest one to give. After unwrapping a birthday or Christmas gifts, you can re-use the paper as a cat toy. Don't crinkle it up into a ball. The ideal wrapping paper is slightly wrinkled so it will make a sound when they walk on it, but flat enough for the cat to sit on or lay down on.
Estimated cost: Free.
Cheap or Free Dogs Toys:
A tennis ball. When I was growing up, we would always play fetch with our dogs. Tennis balls are perfect for fetch because they are just so bouncy. Our dogs loved chasing after tennis balls and I would watch them sit and just chew on the tennis ball for hours on end. If you have a larger dog, you should probably get a larger sized tennis ball to reduce the chance of accidental swallowing or eating.
Estimated cost: You can purchase pet-friendly tennis balls from pet stores such as PetCo for about $3.00. Larger tennis balls cost about $4.00. You might also be able to find a few free tennis balls if you scour the bushes outside your local park's tennis courts.
Thick rope. Tug-of-war is more than just a picnic challenge between two teams. It's also a strategic one on one challenge between you and your dog. You don't need much rope, 2-3 ft will probably be enough. Make sure that it's a good thickness so that you dog can really sink its teeth into it and get a good grip, and so it's more durable. You can also knot the rope a few times to give them some biting points.
Estimated cost: Hardware stores sell rope, or you can get a special pet-friendly rope from your pet store for about $6.00.
Frisbee. A Frisbee is another great toy that allows you to exercise and play with your dog to the max, while using minimal effort on your part. It can fly far with a good throw, and your dog will love chasing after it and if they're really good, jumping up and catching the Frisbee mid-air.
Estimated cost: Frisbees are available and toy and pet stores for as little as $1.99.
All of these pet gift ideas are based off my own experience only, and I make no guarantees for the amount of fun your cat or dog will have with these toys. As always, please make sure that you supervise your pet while they play with their new toys to make sure that they stay safe!