I'm not sure about you, but when I think about Lenox, I always think about beautifully crafted glass items, whether it's crystal vases, stylish dinneware, or holiday decorations. Lenox is a great go-to brand when it comes to gifts as well. I know that I would certainly never reject a Lenox crafted item, that's for sure.
About Lenox
Lenox Corporation is a market leader in quality tabletop, giftware and collectibles. The company markets its products under the Lenox, Dansk and Gorham brands. A shared commitment to quality and design puts our brands among the best known and respected in the industry. Collectively, we span 340 years of tabletop and giftware expertise.
The Review
As soon as I pulled the Lenox Merry & Magical Angel Figurine out of it's padded box, I gasped. The angel is crafted of hand-painted blown glass, complete with intricate angel wings and a golden halo. The base of the angel is conical and has a glittery gold and silver floral pattern circling the entire base of frosted glass. In short, it is a very pretty piece of glass-work.
But the Lenox Merry & Magical Angel Figurine does more than just sit there and look pretty. Flip a tiny switch at the base of the angel, and it will instantly turn into a light show, with the base of the angel changing colors from red to pink to orange to blue. Here's a video so you can see how pretty it is when it is lit.
Don't be fooled into thinking this angel is only for the holidays. First, we (or at least I) always like having angels around me – sending blessings, protecting and guiding 24/7/365. Since the Lenox Merry & Magical Angel Figurine is such a classy and elegant design, it's something that can sit on the mantle year-round. Whenever you feel like an extra dose of light, then just switch on the angel. You can "let your light shine so that others may see."
If you're looking for something more than just the run-of-the-mill angel figurine, either for yourself or to give as a gift, this is a great option. It retails for $40.00 but is currently on sale at Lenox for just $19.99.
Lenox Online
The WiC Project Lenox Merry & Magical Angel Figurine Giveaway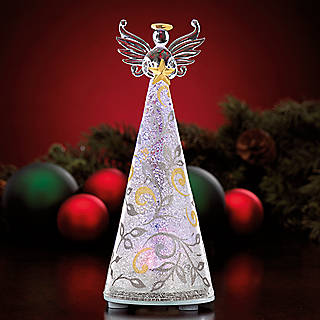 The Prize:
One winner will receive the Lenox Merry & Magical Angel Figurine pictured here.
This giveaway is over and is now closed.
The Rules:
Giveaway ends at 11:59 PM EST, February 28, 2011.
Visit our Giveaway Rules page for general giveaway rules that also apply to this giveaway.
Disclaimer: This post consists of my (and/or fellow tester) opinions only. Your experiences may be different. No compensation was given for this review/giveaway. I did receive a free product from the manufacturer or their representing PR agency to use and test for the purposes of this review. This did not affect the outcome of this review.