If you've ever wondered if you can send someone a birthday cake, the answer is yes, you can! There are a lot of reasons people consider birthday cake delivery. Some people don't have time to bake or even know how to start baking a birthday cake. Add in fancy frosting and decorations and having a beautiful birthday cake could seem impossible for some. In other cases,you might live away from the person celebrating their birthday and can't deliver a freshly baked birthday cake to them yourself. In these and many other instances, birthday cake delivery from Bake Me A Wish is the answer.
Disclosure: No compensation was given for this review. I received free product to facilitate this Bake Me A Wish cake review. This post conains affiliate links.
With Bake Me A Wish cake delivery, you can get delicious gourmet cakes and other baked goods sent to whoever you want, wherever you want! Keep reading to learn how birthday cake delivery can make planning your next your birthday celebration even easier.
Savings Tip: Read to the end of this article to grab an exclusive birthday cake delivery coupon code!
Top 5 Birthday Cakes Delivered
Bake Me A Wish offers a wide selection of birthday cakes that can be delivered nationwide. You simply order the birthday cake online, providing the recipient's information and selecting the day you want the cake delivered. Here are our top 5 Birthday Cake picks you can get from Bake Me A Wish!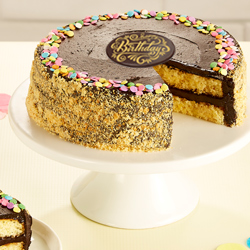 $48
---
Why We Love It
This is everyone's favorite traditional birthday cake taken to a gourmet level. Rich, creamy fudge frosting balances perfectly with the moist layers of yellow cake. The colorful confetti sprinkles combined with the outer edging of toasted cake crumbs make this a birthday cake suitable for all ages.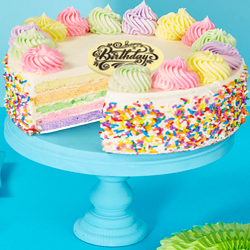 $55.00
---
Why We Love It
From the fruity flavors to the five colorful layers of cake, this Bake Me A Wish Rainbow cake is sure to please. The bright colors make this a great birthday cake for kids too!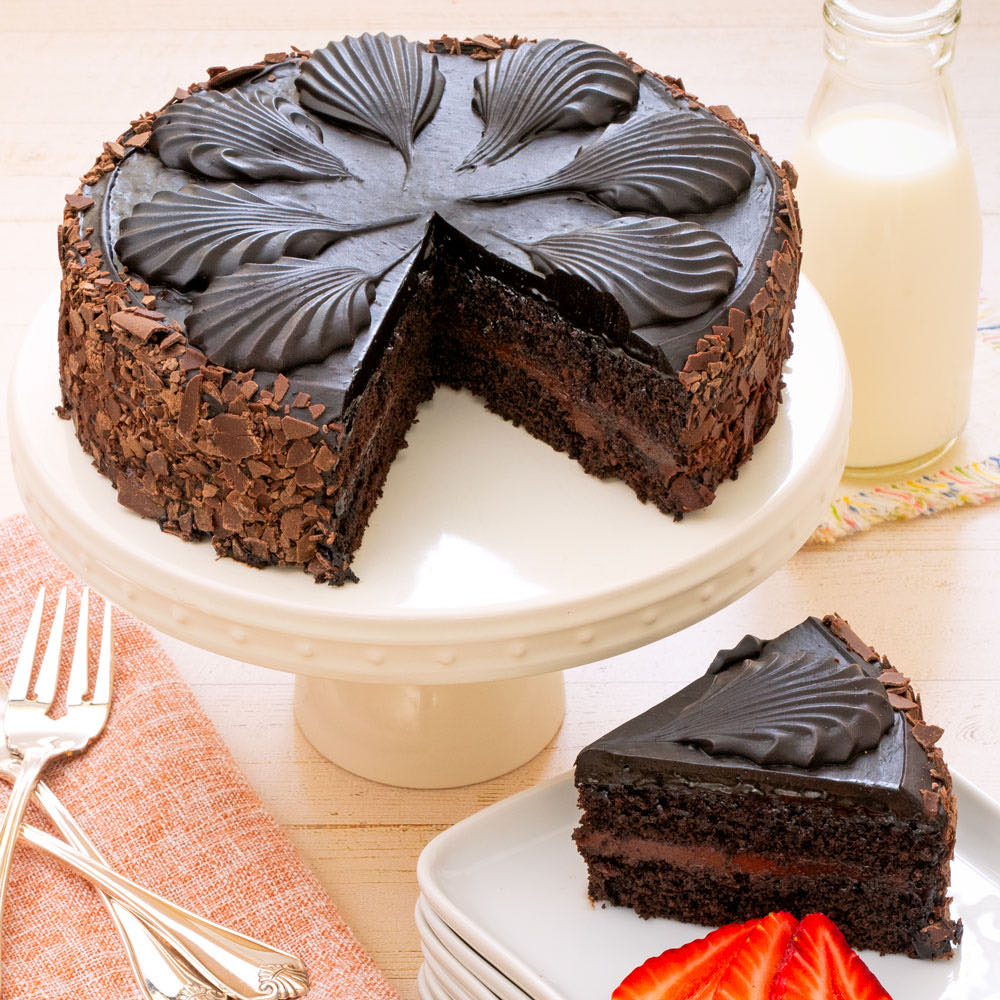 $48.00
---
Why We Love It
If you love chocolate, this chocolate mousse torte cake is for you. Milk chocolate frosting with a dark chocolate glade, fudge rosettes and dark chocolate shavings decorate two rich, chocolately layers of cake filled with smooth, chocolate whipped cream mouse. It's the ultimate chocolate cake!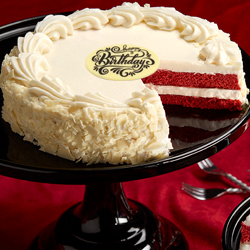 $48.00
---
Why We Love It
This cake has a bold chocolate flavor to match its traditionally red color. Pure cream cheese frosting and filling and garnishes of white chocolate shavings give this decadent cake an elegant look.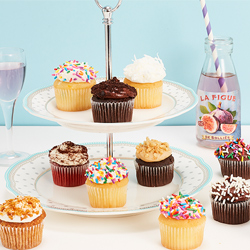 $45.00/dozen
---
Why We Love It
Why choose just one cake flavor when you can have more? Put a twist on the traditional cake and enjoy these gourmet cupcakes in a variety of amazing flavors like Chocolate Crumb, Strawberry Cream, and Coconut Cream, there's a flavor for everyone.
Bake Me A Wish Strawberry Funfetti Cake Review
My birthday is coming up this month, so it was a great opportunity for me to review the Bake Me A Wish Strawberry Funfetti Cake. When choosing which of their delectable birthday cakes to try, the fun, bright colors of the funfetti cake were what first caught my eye. Then, when I saw that this cake had layers of confetti cake and strawbery frosting, I know that this was the cake I had to try.
Bake Me A Wish carefully ships their cakes in a sturdy styrofoam box with a chill pack. Inside the styrofoam, I found my cake carefully packaged in a colorful gift box. Serving the cake was easy. For me, the cake was ready-to-serve out of the box.
Simply stated, the Bake Me A Wish Strawberry Funfetti Cake blew me away. From decoration to texture to flavor, this cake checked every single box when it comes to my perfect birthday cake. The confetti cake was flavorful and perfectly baked. The colorful confetti sprinkles and pink strawberry frosting really made this a fun cake to eat as well. I loved that the frosting was definitely strawberry flavored, but wasn't too sweet or artificially flavored.
The Bake Me A Wish Strawberry Funfetti cake measures 7 inches in diameter and serves 6 to 8 people. While it's best enjoyed on the day you received it, you can also store your cake in the freezer for up 2 to months. I actually saved a few sliced and froze them so I can treat myself to more cake in the upcoming weeks.
Whether looking for a birthday cake for kids or a fun birthday cake for adults, the Bake Me A Wish Strawberry Funfetti Cake is definitely one to consider. If you'd like to buy the Strawberry Funfetti cake, it's available for sale from Bake Me A Wish for $52. You can also buy the Bake Me A Wish Strawberry Funfetti cake on Amazon.
What is Birthday Cake Delivery?
Birthday cake delivery services are a convenient way of getting cake delivery wherever you live in the country. Bakeries like Bake Me A Wish offer a large selection of cakes, cupcakes, and other baked goods you can order online and get delivered. You simply choose the cake, choose the delivery date, and enter the delivery location. The better cake delivery services also let you add a personalized message to a card that will be delivered with the cake. The cake delivery service handles the rest.
Cake delivery services are a great option for people who can't celebrate special occasions with loved ones. You can send them a birthday cake – or any other type of cake – where ever they are, across the U.S. It's just one way you can help someone celebrate, even when you aren't there.
Birthday Cake delivery is also an excellent service for people who aren't so great at baking. If you struggle with baking flops and piles of icing, ordering birthday cake delivery will certainly make things easier. Plus, you can choose a cake that's a bit more gourmet than traditional store sheet cakes.
3 Things to Look For in a Good Birthday Cake Delivery Service
If you want someone to have a birthday cake but don't know how to bake or don't live near that person, then ordering birthday cake delivery is a great option for you. You can order birthday cake online and get a birthday cake delivered to your door. Here are a few things to look for when choosing the best birthday cake delivery service.
Variety of Baked Goods
While this post focuses on birthday cakes, let's be honest – not everyone wants a traditional birthday cake for their birthday. That's why you should look for a cake delivery service that offers more than regular birthday cakes. In addition to favorite birthday cake flavors, Bake Me A Wish also offers Birthday Cupcakes, Birthday Brownies, gourmet fruit pies, cheesecakes, and a variety of other delectable baked goodies. With so many options, it'll be easy to get that perfect birthday baked treat delivered.
Reliabe, On-Time Shipping
When you're ordering cake delivery, you want it to arrive at its destination on time. The cake delivery service you choose should utilize reliable shipping providers. Look for birthday cake delivery services that pride themselves on delivering birthday cakes on-time.
Packaging
Normally, I wouldn't put a lot of weight into how an item is packaged. But when it comes to shipping items like cake, packaging matters. No one wants to open a box, only to discover a crushed mush of frosting and cake. Choose a cake delivery service that packages their cakes with care, like Bake Me A Wish. Not only was there a cardboard collar to help keep the cake from being crushed, the cake was additionally wrapped in plastic, secured with yet another box, and then shipped in an insulated foam box. My cake arrived in perfect condition, ready to be served.
If you're looking for the best birthday cake delivery service, I encourage you to check out Bake Me A Wish.
Exclusive Bake Me A Wish Cake Delivery Coupon
We're excited to share an exclusive Bake Me A Wish coupon code just for The WiC Project readers! Use code WIC15 to save 15% off your entire purchase from www.bakemeawish.com.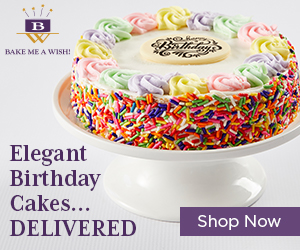 Where to Buy Birthday Cakes Online
My favorite place to ship for birthday cakes online is the Bake Me A Wish Website – www.bakemeawish.com. There you can easily shop all of their delicious gourmet cakes in a variety of cake and frosting flavors.
Select Bake Me A Wish Cakes are also available for sale on Amazon.