While candles are a popular gift, sometimes you want something more than a vanilla pillar candle. When shopping for candles, I look for quality wax candles with great scents. When I learned about Bossy Pants Candle Supply, I was excited to give them a try. Bossy Pants Candles use all-natural soy wax to create small-batch, hand-poured candles. Their candles are also vegan and cruelty-free.
I received a complimentary Bossy Pants Candle for the purposes of this review.
Here's a quick summary of what we'll cover in today's Bossy Pants Candle review:
Important features of Bossy Pants Candles
My personal Bossy Pants Candles review
Background about the Bossy Pants Candle Supply Company
Information about where to buy Bossy Pants Candles
Tips on how to care for your soy wax candle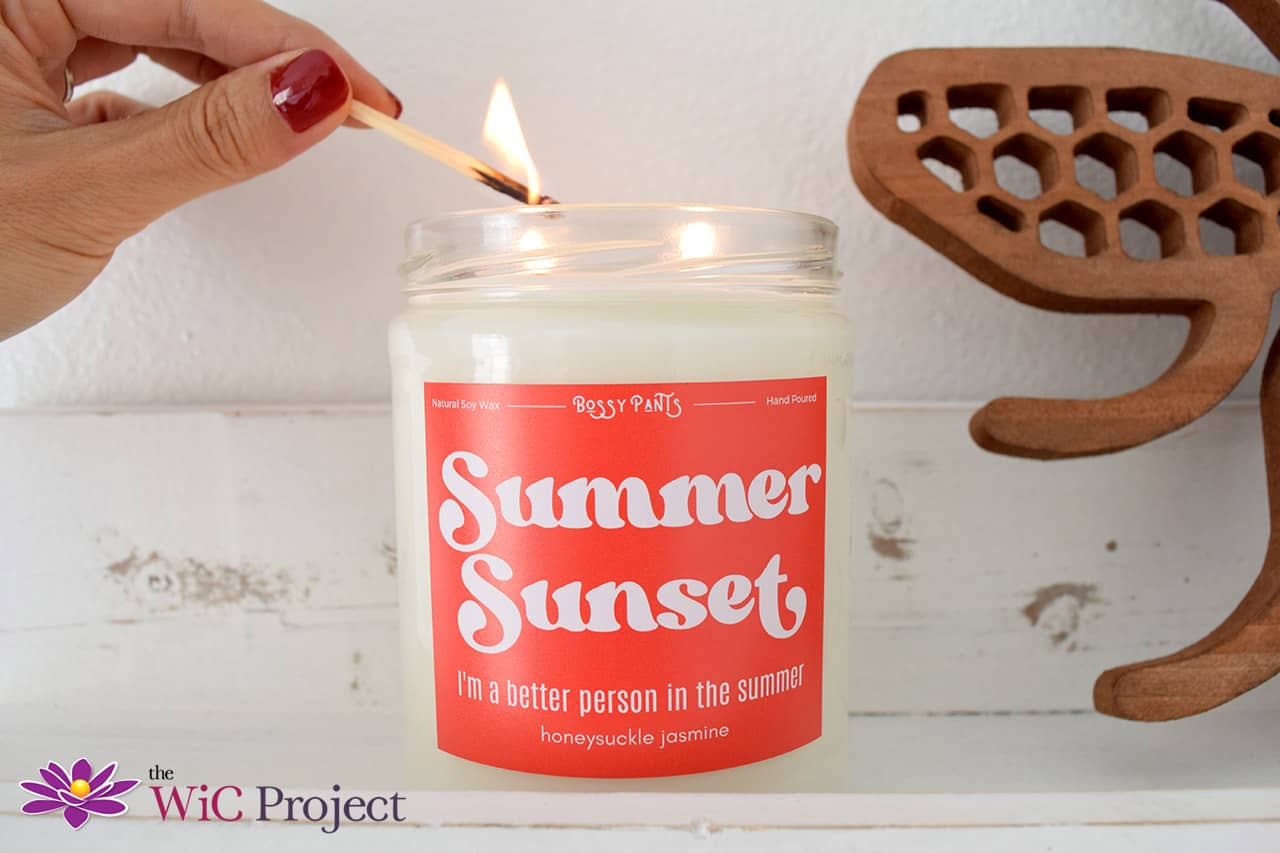 Bossy Pants Candle Features: What Makes Them Special
Bossy Pants Candles are hand-poured, natural soy wax candles. Each candle arrives in 16oz jars and offers over 50 hours of burn time. Bossy Pants uses lead-free cotton wicks. Here are some of the other important Bossy Pants Candle features:
Made of Natural Soy Wax
Bossy Pants Candles are made with all-natural soy wax without any added chemicals or petroleum-based waxes. Compared to traditional paraffin candles, soy wax burns cleaner and longer. Plus, with soy candles, you aren't releasing harmful chemicals into the air of your home.
Unique Fragrances
Bossy Pants Candle Supply regularly releases new candles collections. Many of the collections are seasonal and include candle scents matching the season. Whether looking for bright and clean candle fragrances, or something to help you relax, Bossy Pants Candles has a candle to suit your mood.
Funny & Inspirational Designs
While the design of their candles is simple, Bossy Pants Candle decorates its candle jars with colorful, inspirational, and humorous phrases. Examples include "Crazy Plant Lady (I like big plants and I cannot lie)", "Alexa, clean the house ('i love spending all day cleaning' said no one ever)", and "Squeeze the Day (there's no better time than now)".
Bossy Pants Candle Review
For this Bossy Pants Candle review, I received the Bossy Pants Candle Summer Sunset candle. The Summer Sunset (I'm a better person in the summer) candle is perfect for helping you enjoy the summer season or remind you of warmer times.
The Summer Sunset fragrance is a combination of jasmine, honeysuckle & rose petal. While it sounds very floral, it smells very tropical to me and reminds me of the flowers of the tropics. The rose scent is subtle while the sweetness of the honeysuckle pops.
Beyond the scent and the design, there are a few other things I look for in a candle. For me, a good candle will burn evenly (meaning, no hollow cylinders of wax), without smoking, and will throw a good fragrance throughout the room. The Summer Sunset Bossy Pants Candle checked all of those boxes.
Bossy Pants Candle Review: Final Thoughts
Overall, I was really happy with my Bossy Pants Candle. I really appreciated that the fragrance was present, but. not overpowering. Burning the candle didn't fill the room with smoke nor did it make the air feel heavy or thick.
I also really liked that they used two wicks in their candles. This helped the candle burn more evenly and it didn't leave any unmelted wax on the sides.
Bossy Pants offers a lot of different fragrances on their website, with funny, inspiring, and even a few sassy names to go with the scents. It does appear that many of their fragrances do sell out, so it's best to grab the one you're eyeing while you can.
I also really like that Bossy Pants Candles feature fragrances beyond the standard "cucumber melon" or "fresh cotton"-type scents. Many of their candles blend a variety of different scents that make the candles smell unique and complex.
If you're looking for all-natural soy candles that smell amazing, whether for your home or to give as a gift, make sure you visit www.bossypantscandle.com to find the perfect candle for you!
About Bossy Pants Candle Supply
Founded by 2 sisters, Bossy Pants Candle Supply creates candles designed to put a smile on your face. All Bossy Pants candles are hand-poured in small batches, are vegan, and are cruelty-free. Based out of East Indianapolis, Indiana, USA, their team of candle lovers pours your candles and packages them with care.
Where to Buy Bossy Pants Candles
You can shop for Bossy Pants Candles on their online store at bossypantscandle.com. In addition to individual candles, which start at $25.99 per candle, they also offer Mystery Boxes filled with a surprise mix of candles. For true candle lovers, Bossy Pants offers the Secret Scents Club candle subscription box. Secret Scents Club is a monthly subscription box for exclusive Bossy Pants Candle scents, wax melts, or a bundle of both. Bossy Pants Candle Secret Scents Club is the best value for your buck as the price includes shipping, plus it guarantees you receive their limited-run candle fragrances.
How to Care for Your Soy Wax Candle
There are a few steps you can take to help you get the most out of your Bossy Pants Soy Wax Candles. Uses these easy tips to care for your candles.
Allow a full melt pool of wax to form before extinguishing your candle.
By letting the wax melt all the way to the edges of the jar before blowing on the candle, it will help ensure a safe, clean burn with no wasted wax. Bossy Pants Candles recommends you burn your candle for at least 2-3 hours on the first burn.
Trim your wicks to 1/4″ after each burn.
Keeping your candle wicks trimmed helps limit the amount of soot that develops. Trimming the candlewick controls the amount of wax (fuel) the candle can burn. This helps the candle burn more evenly and control the soot. To trim your candle wick, wait for the wax to completely cool, then use a pair of scissors or wick trimmers to cut away the excess wick.