The Winter season has arrived. And not only did it bring cooler temperatures and snowstorms, but it also meant it was time for Decocrated to release their Winter home décor subscription box. If you aren't familiar with Decocrated, it's definitely a subscription you should know about. Decocrated is a quarterly subscription box that sends you a curated collection of unique and exclusive home décor pieces every season. With this Winter 2021 Decocrated review we'll share our thoughts about their latest home décor subscription box, as well as a few tips to help you decorate for winter.
I received a complimentary Winter 2021 Decocrated Box in exchange for sharing my honest review. This post contains affiliate links.
In this Decocrated subscription box review and unboxing, we'll cover:
An Overview of the Decocrated Home Décor Box
Our Winter 2021 Decocrated Box Unboxing and Review
Answer FAQs: How to Get a Decocrated Box? How Much is Decocrated?
Simple Winter Decorating Ideas
Winter 2021 Decocrated Box Spoilers Alert!
This Decocrated unboxing and review reveals all of the home décor pieces in the Winter box. If you want to learn more about Decocrated, but still want to be surprised by the Winter box, read our Fall Decocrated box review.
Decocrated Home Décor Box Overview
Decocrated is a seasonal subscription box curated to make home decorating fun and easy. Every season, Decocrated spends months curating 6-8 seasonally inspired home décor pieces that can fit into a variety of home styles and spaces.
Each box features an assortment of home décor pieces like decorative trays, tabletop décor, throw pillow covers, wall art, printed art, and more. Starting at a price of $75 per box, every Decocrated box contains over $200 worth of home decor, which makes this an incredible value. A Decocrated Styling Booklet complete with product descriptions, pro decorating tips, and how-tos is also included for inspiration.
Finally, Decocrated members gain exclusive access to the Decocrated members-only store, as well as exclusive discounts on home décor items. The Decocrated Member Shop features pieces that complement the items featured in the seasonal boxes.
Decocrated Subscription Features Recap
6-8 curated home décor pieces – worth over $200 – delivered every season (quarterly.)
Exclusive Access to Decocrated members only home decor shop and discounts up to 50% off.
Seasonal styling booklet with decorating tips & inspiration
Decocrated Box Review – Winter 2021 Unboxing
To begin the Winter 2021 Decocrated unboxing, we open the included envelope to reveal this month's art print, styling booklet, and a fun Decocrated sticker.
Each home décor piece is individually and carefully packaged to ensure it arrives in perfect condition.
The Winter 2021 Decocrated box featured 3 Seasonal Accent Pieces and 2 Everyday Home Accents. A few of those items were sets, so there were a total of 9 individual home décor items in the Winter box.
The Decocrated Winter Box paired seasonal patterns and accent pieces to help you achieve a whimsical winter space. The key box themes were: Evergreen Forest; Whimsical; Seasonal Touches. The items feature combining elements of Driftwood, Black Matte Metals, Evergreen Textures, and Bold Patterns.
Here are the home décor pieces featured in the Winter 2021 Decocrated Box:
The Art Print – "This double-sided 4″x6″ art print welcomes in the winter season. One side celebrates the winter holiday with a botanical design, and the other is a quote, 'Baby It's Cold Outside.'"
The Faux Winter Wreath – "Time to start bringing the winter vibes into your home! This season add in our Faux Winter Wreath to bring the holiday spirit full circle. This wreath is the perfect addition to your fireplace mantel or front door."
The Evergreen Pillows – "As we welcome a new season, it is time to change up our pillows! In this season's box, you will find a set of two double-sided fabric throw pillows to add to your winter decorating! One side features an evergreen design with a classic green, and the other side has a modern style plaid in white and black. Add this on your couch or in a bin, and you're good to go!"
The Evergreen Wall Art – "It is time to change up your wall décor! To ring in the Winter season, add our Evergreen Laser-Cut Wall décor to hang on your wall or position against a wall with our other winter pieces. With a clean white finish and framed in wood with a light driftwood finish, it is a perfect pair with our Wood Metal Tray and Set of 3 Winter Animals."
The Winter Tray – "Looking for a place to display all your favorite Winter décor pieces? Try our Wood and Metal Tray! This decorative wood tray has a driftwood finish with a black metal accent perfect for any home style. Display this tray on a coffee or entryway table. What more do you need?"
The Woodland Animals – "Add a whimsical touch to your home this Winter by adding winter animals to your décor! Our set of 3 Woodland Animals looks great placed on a tiered tray or wall shelf, your pick! The set includes a polar bear, fox, and squirrel with a driftwood finish. Get decorating!"
Winter 2021 Decocrated Box Review – Conclusion
I'm delighted that even though this is my third Decocrated box, every box continues to surprise me. Since Decocrated offers a separate Christmas Home Décor Add-on box (review to come soon!), I knew that none of the items would be Christmas-themed. I waited for the Winter box with much anticipation, as I've come to expect unique home décor items in each box. The fact that every item I've received in a Decocrated box fits our style continues to amaze me.
I'm not sure how, but each of the home décor pieces we received in the Winter Decocrated Box was something I wanted. From the wooden tray and animals that are part of a new table centerpiece, to decorating the walls with some seasonal art and a wreath, and even the new evergreen pillowcases, I was instantly able to put the home décor pieces on display in our home. I simply loved everything
Decocrated has absolutely transformed the way that I decorated. In truth, I didn't really prioritize decorating for the different seasons before I started receiving Decocrated boxes. Before, it was a "big deal" when I bought a snowman-themed welcome mat – after 9 years in Montana. Now, I'm actually looking forward to finding new ways to add decorative touches to match different seasons. Decocrated has really opened my eyes in terms of decorating possibilities. If you're looking for new design inspiration, or just want an easy way to freshen up your home's decor, I encourage you to subscribe to Decocrated.
Make sure you check out our previous Decocrated reviews to view the home décor items featured in previous Decocrated boxes.
How to Subscribe to Decocrated Home Décor Subscription Box
It's easy to join Decocrated. Simply subscribe to the subscription box on the Decocrated website at decocrated.com.
In addition to the quarterly home décor boxes, Decocrated also offers limited edition add-on boxes featuring specific holidays or themes. Available on first-come, first-serve basis, these add-on Decocrated boxes are purchased separately from a subscription and are only available to Decocrated subscribers. The Decocrated Limited Edition Add-On Box themes are:
Easter
Patriotic
Halloween
Christmas
How Much is Decocrated?
Decocrated costs $79.99 per box (plus $10 shipping) with quarterly subscriptions or $299 per year with annual subscriptions.
In addition to the $60 savings on membership, annual Decocrated subscribers receive additional perks such as complimentary priority shipping and a special Anniversary surprise.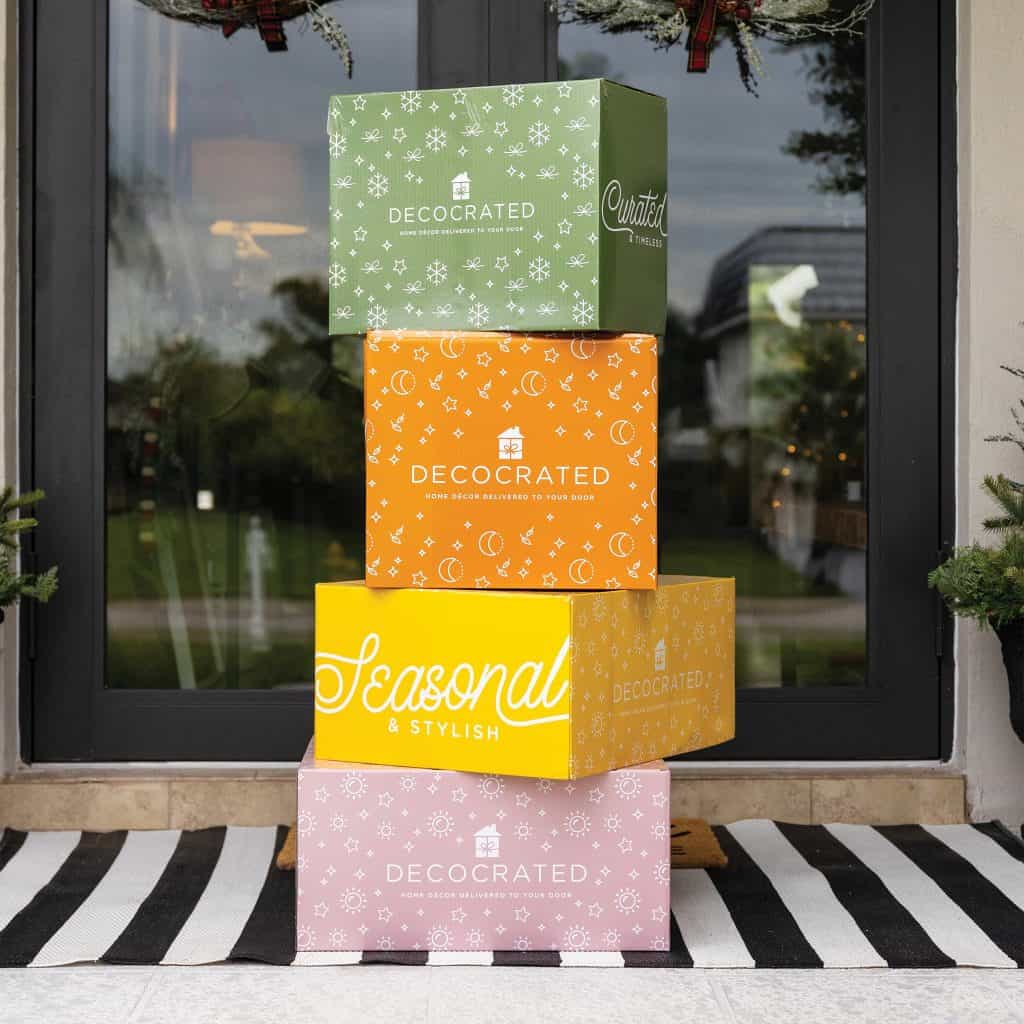 7 Simple Winter Decorating Ideas for Your Home
Winter is a time for snow, cold weather, and Winter decorations. There are many ways to decorate your home for winter without breaking the bank. This article overs 7 simple decorating ideas for your home.
Decorate Your Front Door for Winter
Decorating your front door is a fun way to get into the spirit of the season. This is easily done by hanging a wreath or some decorations, such as snowflakes or a snowman, onto your front door. For the Winter season, look for a wreath featuring evergreen and other seasonal accents. Bonus, you can swap out for a new wreath for each season! Tip: Use an over door hang your wreath without tools!
Bring Greenery Indoors
Greenery is a great way to bring the outdoors inside during winter. A touch of winter greenery can make a big difference in terms of ambiance and coziness. There are many options for adding greenery to your home this time of year, including artificial and live plants. A few ideas are to place pinecones in bowls or use evergreen branches to decorate.
Add Easy Winter Details
You can add a lot of winter details to your home for the holidays. Start by decorating with greenery and wreaths, then hang snowflakes and icicles on the walls or use them as ornaments. You can also add pops of patterns and color by using red candles, red tartan blankets, or pillows. To give your home a rustic look, use pine cones and acorns to decorate the area. These are easy but effective ways to add depth while also giving you time with family during this busy season!
Make a Simple Winter Centerpiece
A simple winter centerpiece is easy to make. Centerpieces are typically made of flowers and greenery, but other options include using something else like votives, tea lights, or votive candles. Another option is to place fresh pinecones, evergreen branches, or even Christmas ornaments in bowls or vases.
Wintry Hot Chocolate Bar
One of the most iconic winter drinks is hot chocolate. Create a wintry hot cocoa bar for your family and friends to enjoy anytime during these colder months by making some Winter-themed additions. Your Hot Chocolate Bar should have plenty of cocoa mix on-hand, as well as plenty of toppings, such as marshmallows or chocolate chips. For some extra seasonal indulgence, you can also add flavored syrups or spices, such as peppermint syrup to make Peppermint Hot Chocolate.
Highlight the Fireplace
Many people love a cozy fire during the colder months. To add to the coziness, many people decorate their fireplace mantel with items that are rustic and woodsy like pinecones and logs. Hanging garland along the top of the fireplace is another great way to decorate for Winter. Other people like to turn the fireplace into a centerpiece by adding greenery and candles around the fireplace and on the mantel!
Play Up Winter Greenery Outside
If you're fortunate enough to have a front or backyard, it's the perfect opportunity to take some of that decorating flair outdoors. Adding twinkling white lights around trees or branches is a popular way to decorate for Winter. You can also use snowflakes or icicles to spruce up your outdoor living spaces.
Before you head out shopping for holiday decorations, it may be helpful to take a trip around the house and look at what you already have. You may find that there are plenty of decorations tucked away in storage or in the attic, just waiting to be put into use this year!