Dignity Coconuts produces Organic and Fair-Trade products while promoting dignity and sustainability using sourced ingredients which are handmade by farmers using traditional methods.
If you're looking for meaningful gifts for Mother's Day, graduations, teachers, bridal and baby showers, birthdays, special occasions or just because, Dignity Coconuts creates items to promote clean, health, and sustainability while supporting social causes good for all.
I received a complimentary Clean Beauty Kit for the purposes of this Dignity Coconuts review. All opinions are my own. This post contains affiliate links.
I received the Clean Beauty Kit to try and I'm a fan. The kit includes a Natural Fiber Body Brush and a 4 oz jar of Raw Coconut Oil. It arrives packaged in a plant-based Sinamay Bag which is 100% natural and biodegradable.
The Natural Fiber Body Brush can be ordered with soft or medium bristles which are eco-friendly and fair-trade certified. They are high quality natural fibers which help you to gently dry brush your body before you shower or bathe.
Dry brushing is holistic, has been practiced for centuries, and its benefits include improving circulation, exfoliating, and the repetitive motion of brushing can calm and destress you for your wellbeing. The instructions included with the brush include care for using it and cleaning it to extend its life as part of your skincare routine.
Dignity Raw Coconut Oil is 100% organic and unrefined. If you're not familiar with Coconut Oil, it's a solid which gently melts into a spreadable oil with your body heat and is quickly absorbed. The Organic Raw Coconut Oil also contains unrefined Cocoa Butter, Candelilla Wax, and Vitamin E. I received the Unscented, but you can also choose Lavender Peppermint or Vanilla.
The Dignity Raw Coconut Oil is bottled at the source—centrifuge extracted without heat, non-GMO, Direct Trade, USDA Certified 100% Organic. It goes on smoothly and absorbs quickly leaving behind moisturized skin. It can be used topically for skin and hair.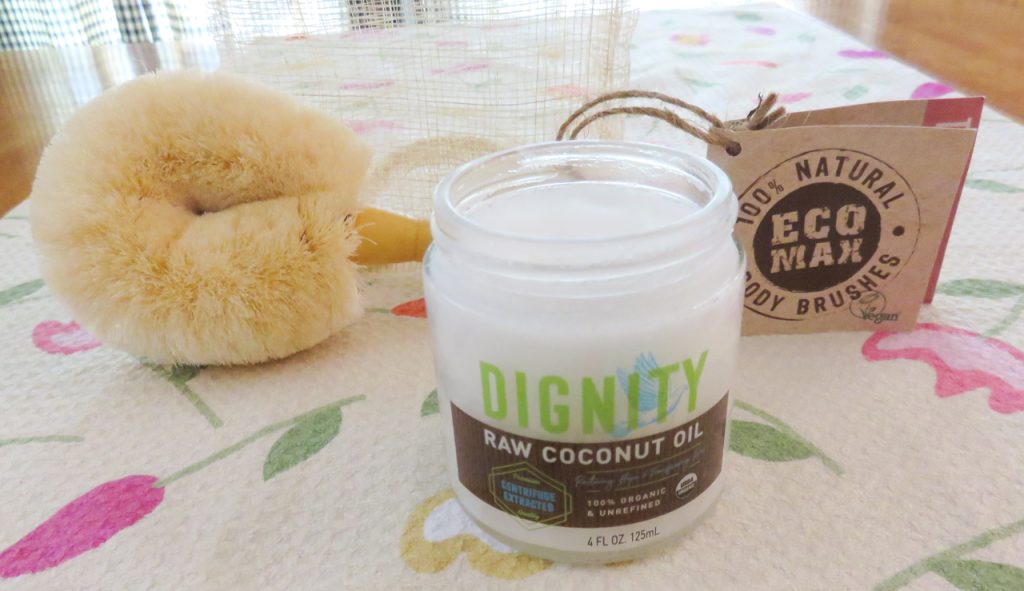 The Dignity Raw Coconut Oil is also food grade for cooking meals or using in smoothies with little or no taste to overpower food. It can be used for Keto, Vegan, or non-Dairy diets. It's sourced from the Philippines.
Dignity Coconuts is "…committed to being a force of good in the world by making the best products, caring for the Earth, and bringing freedom to people who are trapped." They fight poverty with proprietary extraction methods and jobs to transform communities in the Philippines with small-scale famers using organic and sustainable practices through fair-trade. They are bringing dignity and hope to people in villages in a part of the Philippines which has often been ignored.
As you plan your gift purchases, include Dignity Coconuts Clean Beauty Kit which can leave you with soft smooth skin while helping others by creating jobs, educational opportunities, clean water, and more.
Where to Buy Dignity Coconuts
You can shop for raw, organic coconut oil, natural lip balms, and more Dignity products at www.dignitycoconuts.com.