I attended a free screening in exchange for my honest opinion.
HAUNTED MANSION from Walt Disney Pictures is a live-action major motion picture with elements of fantasy, horror, and comedy. A star lineup includes LaKeith Stanfield, Tiffany Haddish, Owen Wilson, Danny DeVito, Rosario Dawson, Chase W. Dillon, Dan Levy, Jamie Lee Curtis, and Jared Leto. It is rated PG-13, while a family-friendly movie, it may not be suitable for young children because of some scary and thematic elements.
A single mother (Gabbie) and her son (Travis) starting over move into a mansion late at night and leave soon after because of paranormal activity in the home. As they're driving away, a specter says, "You'll be back."
A former astrophysicist-turned-tour guide (Ben) in New Orleans is enlisted to check out the home for the source of what is inhabiting the home by a priest (Father Kent) … for $2000. Jumping at the money, he brings his equipment but fakes his assessment. Haunted by his own grief, he no longer believes in his life's work as a scientist.
Returning to the mansion after being visited by a mansion's ghost, he apologizes and agrees to help her after finding out that once someone enters, they can't escape the home after dark, especially at midnight with a full moon.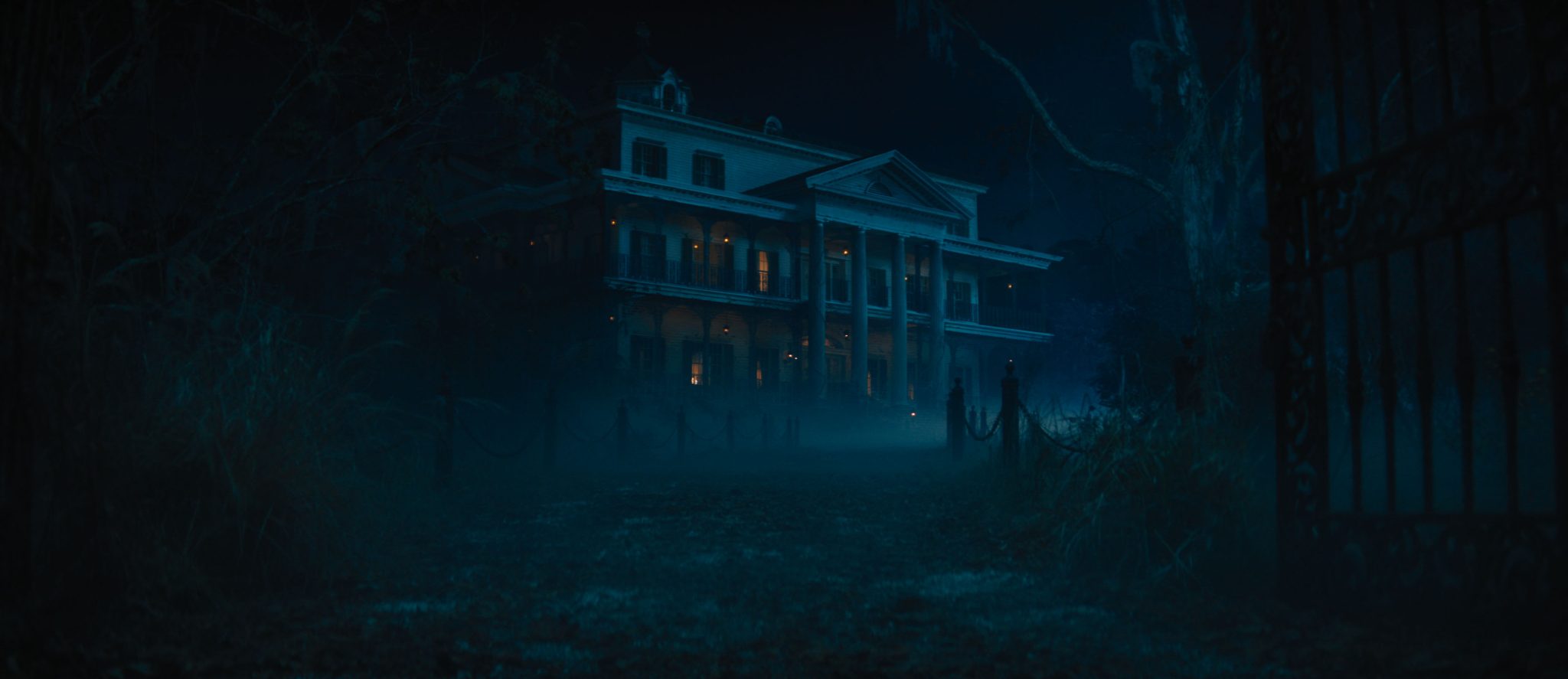 Engaging the help of a medium and borrowing, er stealing, the history of the home from a professor, they work together to find out who's haunting the house in order to rid the home of all of the ethereal inhabitants. As they're going through the papers, the professor shows up.
Finding a secret room leads to a séance, but not enough answers. Learning the ghost of the previous owner isn't the head ghost requires another perilous search of the home. Finding the original medium from centuries ago trapped in her crystal ball leads to more clues.
In order to rid the home of the ghostly inhabitants, they must find an item from the evil specter and he must go willingly. But time is not on their side, the full moon is fast approaching, and the specter only needs one more victim to carry out his final curse on the house.
The group has grown close during their captive time in the haunted mansion, and they feel Ben is the most vulnerable because of his grief of a loved one, and the one most in danger of becoming the final victim. Or is he? He goes on a quest to find the object they need with Travis and Father Kent. Time is of the essence. Just when they think they're about to succeed, things go from bad to worse …
The movie is full of funny and comedic moments followed by scary things and bumps in the night. The house is alive with ghostly beings and anthropomorphic objects, and only a front parlor seems to be a safe zone. You'll laugh, jump in your seat, and you may even shed a tear with all of the action and emotions. You'll be routing for the unlikely group of amateur sleuths as they try to save the mansion, and themselves, from the unknown. Don't forget to look for some entertaining cameos.
HAUNTED MANSION has the perfect blend of ethereal fun mixed with a touch of thrill and a tiny hint of chill to create an enjoyable family-friendly movie. The action balances the comedy with the light horror to produce an entertaining time at the theater. Enter if you dare!
HAUNTED MANSION opens in theaters on Friday, July 28.
Haunted Mansion Official Trailer