I received a free digital screening in exchange for this honest "The Hill" review.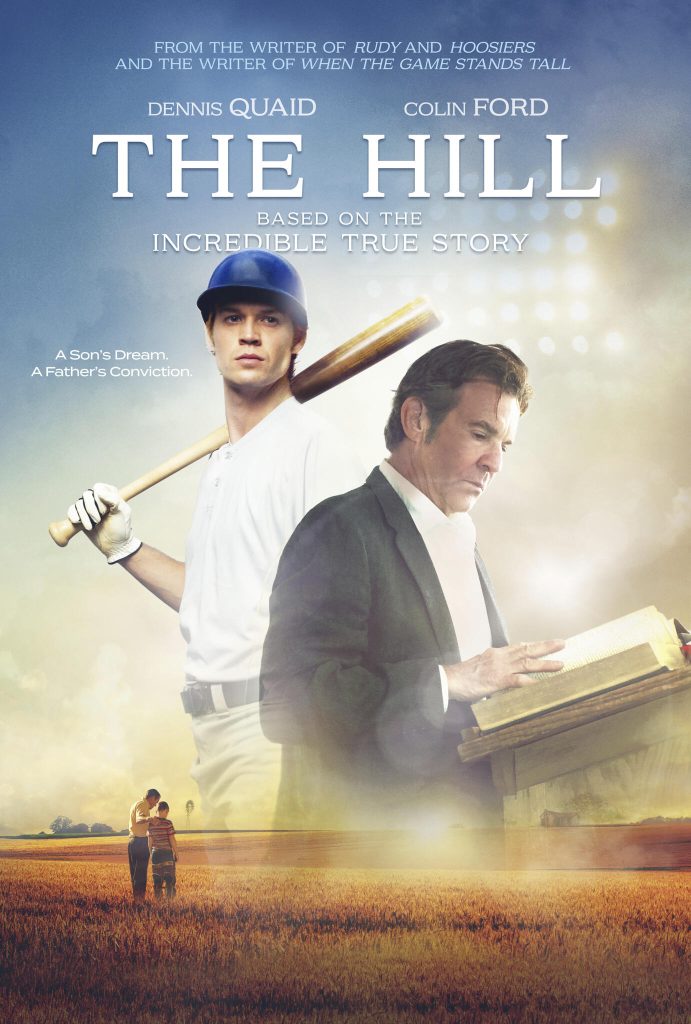 THE HILL is an inspirational biographical sports film based on the true story of Rickey Hill. Released By Briarcliff Entertainment with Vitamin A Films and Piney Pictures, it's rated PG and stars Dennis Quaid, Colin Ford, Joelle Carter, Randy Houser, Jesse Berry, Scott Glenn, and Bonnie Bedelia.
Rickey Hill was born with a degenerative spinal disease and wore leg braces as a child. He loved baseball, and when it came to hitting, he was prodigy in the distance he could hit, in spite of his age and disability. While he dreamed of playing in the big leagues, the odds were against him. He believed in "never say never."
The son of a preacher, his father was a strict disciplinarian and lived by example of the Bible and its teachings, and he expected his family to live the same way. Baseball was not something allowed. His father didn't believe in Rickey's dream and sees his son's future as a preacher.
Being taught that with God, all things are possible, from Matthew 19:26, Rickey never gives up his dream. After his father loses his job and the family is traveling, their car breaks down, and it seems to be hopeless situation, but they are found by a family who knows of a job with a rectory and a church in need of a pastor. Taking the job, they find the church and rectory broken down and ramshackle, which they take as a sign of possibility.
Rickey breaks off his braces in order to play baseball with a group of kids, but his father refuses to allow Rickey to play on a little league team. Rickey and his brother forge their father's signature for him to play. The coach tells Rickey's father his hitting is a gift, but he will not give his permission. Rickey is asked to choose between God's will or his own will, and Rickey comes up with an argument to choose both. At the plate, Rickey always draws a cross in the sand, and he shows his father how the cross can fit in the baseball diamond, and cites the Bible, including Phil 4:13, "I can do all things through Him who strengthens me."
While his father does not stand in his way, he never attends the games Rickey plays through high school. Rickey's boss supports his abilities and encourages him to follow his dreams of being a major league player. Rickey's long-lost friend Gracie shows up to watch his games during his senior year.
All throughout playing, he's endured back pain. His boss has called a scout to watch a game, but Rickey is injured during the game. His baseball career is seemingly over, based on the injuries and cost of the surgery with no guarantees. His girlfriend and family's fundraising comes up short, but the boss offers the difference as a loan against future earnings.
Post-surgery, the doctor tells Rickey he'll never play again. Dejected, he breaks up with his girlfriend, seems to give up on his dream, and as his grandma is dying, she tells his dad to give his son his dream.
There's a special tryout being run by notable scout Red Murff, and Rickey starts training to be there. Rickey can still hit, but he's not fast on his feet. His father has written a verse inside his glove, and everything is on the line. It doesn't go well, and he's cut. Unwilling to accept defeat, he faces Red and demands another chance, to which Red devises an impossible challenge to be a DH for both teams in an exhibition game.
At the game, Rickey hits at every at-bat, 10 for 10. It's his one shot, till he's hit by a ball. He refuses the base, and goes for the 11th hit. It's a tryout, and traditional rules do not apply.
During the game, his father is preaching. He has a come-to-Jesus moment and is full of regret and remorse for not supporting his son. His revelation is that God's plan was for Rickey to play ball. As he shows up to the game, Rickey not only gets his 11th hit, it's a homerun. Afterward, they have a father-son moment, and his father says, "God's not through working on both of us."
Rickey Hill was signed by the Expos in '75, and he played in the farm system for four years before retiring in 1979. He lived his dream of becoming a professional baseball player.
THE HILL is a beautiful family-friendly sports movie which evokes the feel of classic sports movies. The use of dual timelines shows how Rickey has never given up on the dream. The family dynamics ring true and overcoming the test of faith in the face of adversity is worth the fight.
THE HILL reminds us that never giving up, having hope, believing in miracles, and putting in the work can help make our dreams come true. A truly inspiring movie, this one delivers on faith, hope, and love!
The Hill debuts in theaters on August 25, 2023.
The Hill Official Trailer
Connect with The Hill Online