I received complimentary Nepal Tea teas in exchange for this honest review. All opinions are my own. This post may contain affiliate links.
Nepal Tea Collective is an award-winning, immigrant-owned public benefit corporation (PBC) that distributes organically grown teas. The teas are sourced and fresh-picked and packed from four farms in the Himalayas of Nepal. Their tea varieties include black, white, green, blends, and more.
As a PBC, they create social and public good while operating in a responsible and sustainable manner. By eliminating the middle man, they bridge the gap between tea farmers and customers to work directly with the producers. Nepal Tea has added QR codes to each package to bring transparency with exact tea farm information, including when it was hand-plucked, packed, and shipped.
I received two different loose-leaf black teas for the review. Both teas were rated 4 out of 5 on a caffeine scale. I'm the first person to open the tea since it was packed in Nepal, which means I'm getting a fresher tea. The exterior packaging is made from locally sourced woven bamboo which is reusable and biodegradable.
I first opened Kumari Gold from the Kanchanjangha Tea Estate. an Organic Black Tea with notes of Caramel, Woodlands, and Baked Fruit. A full-bodied black tea, the fruit flavor gave the tea a wonderful taste and aroma.
The second tea I opened was the Kanchanjangha Noir from the same Kanchanjangha Tea Estate. An Organic Black Tea with notes of Dark Chocolate, Tree Bark, and Malty. It had a rich flavor with the darker notes and had a lovely taste and aroma.
The tea is certified organic by CERES and USDA. Inside the bamboo package, there was an information paper with content about the tea farm, the Nepal Tea Collective, and each flavor was signed by the team members in Nepal.
Both of the teas are delicious, and it's good to know while I'm enjoying a fresher cup of organic tea that the tea farmers are benefitting with a higher standard of living. The Nepal Tea Collective gives back through its Nepal Tea Foundation with educational scholarships, cow distribution, free housing, planting new tea saplings with each order, and more.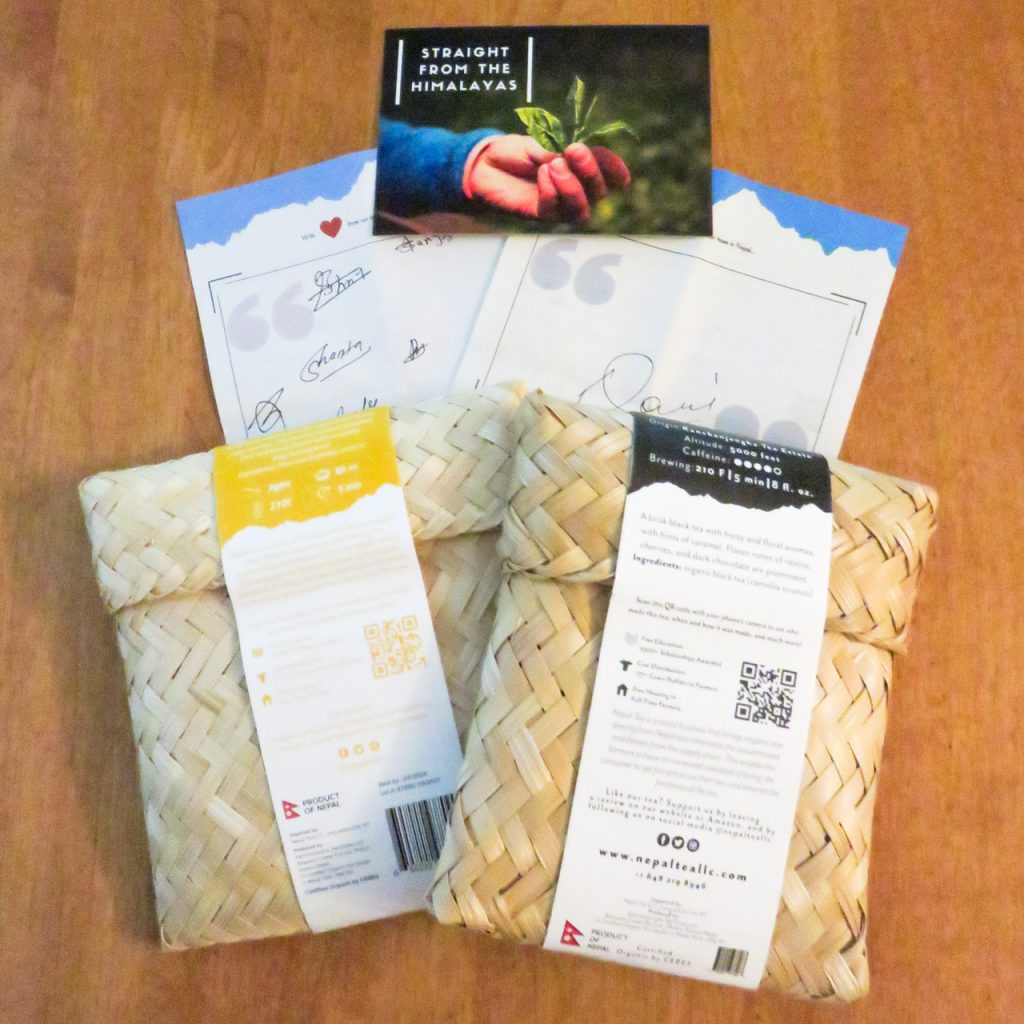 The Nepal Tea Collective website is easy to navigate with a variety of teas and blends which you can order directly in different sizes or choose bundles or even a tea subscription. All the teas are available in loose-leaf and some are available in pyramid tea bags.
Where to Buy Nepal Tea
Nepal Teas are available for sale at nepalteacollective.com. The online tea store offers loose leaf teas for White Tea, Green Tea, Oolong Tea, Black Tea, Chai, and Tea Blends. Select Nepal Tea varieties are also on sale on Amazon.