One of the things I've learned about cold weather is that your extremities, like your hands and feet, are the first parts of your body to feel cold. And let me tell you, when it's below-freezing weather, you can feel that cold – fast. As tempting as it is to just bundle up and stay warm indoors, life doesn't always have the same plans. From cutting down trees for firewood to shoveling snow off the front deck, there are a lot of reasons to be out in the cold. Fortunately, I've discovered a new way to help fend off that frozen feeling, even in very cold temperatures. Today, I'll be sharing my experience with Ocoopa Rechargeable Hand Warmers.
Here's a brief overview of what we'll cover in our Ocoopa Hand Warmer review:
Important features and benefits of Ocoopa Rechargeable Hand Warmers
Our personal review of the Ocoopa MagTwins UT2s Rechargeable Hand Warmer
Background about Ocoopa
Information about where to buy Ocoopa Hand Warmers
Ocoopa MagTwins Rechargeable Hand Warmer Features & Benefits
The Ocoopa MagTwins hand warmer features a versatile 2-in-1 design. The two hand warmers can be used separately for 270° heating or you can attach the hand warmers together to create one hand warmer offering 360° heating.
Portable hand warmers should heat up quickly. The Ocoopa MagTwins have a quick heat feature that delivers noticeable heat in just three seconds. Choose from 4 levels of heat – up to 145°F – with the click of a button.
The two 5,000mAh batteries power 8+ hours of heat on low heat settings. Plus, the hand warmers can double as phone chargers in a pinch.
Ocoopa MagTwins Rechargeable Hand Warmer
$42.99
Ocoopa Rechargeable Hand Warmer Review
There are a couple of things I look for in a good hand warmer. First, and most importantly, it has to keep my hands warm. I tested the Ocoopa MagTwin hand warmers by taking them outside into single-digit temperatures with no gloves (!!!!) to see if they kept my hands warmer. I also tested how quickly the hand warmers would heat up already cold hands.
Without a doubt, the Ocoopa hand warmers did a great job of quickly heating up my hands. Even after the hand warmers had been sitting outside in 20°F temperatures, my very cold hands felt a noticeable heat in a matter of seconds after turning on the warmers. I felt the heat continue to increase to max temp over the next minute or so and my hands, and even my arms, felt the warming effect immediately. Even after over two hours at max temperature, they still had a good charge and delivered heat.
Next, a good hand warmer should be easy and comfortable to hold. I don't want to feel like I'm lifting weights while holding the hand warmer. One of the main reasons I like the Ocoopa MagTwins hand warmer is that it can split into two pieces. Each half fit comfortably into my hands, with the curved part of the design fitting just right into the curve of the hand. Even when the pieces are combined, the hand warmer was still of small enough size that it didn't feel bulky or awkward to hold.
Ocoopa Hand Warmer Review: Final Thoughts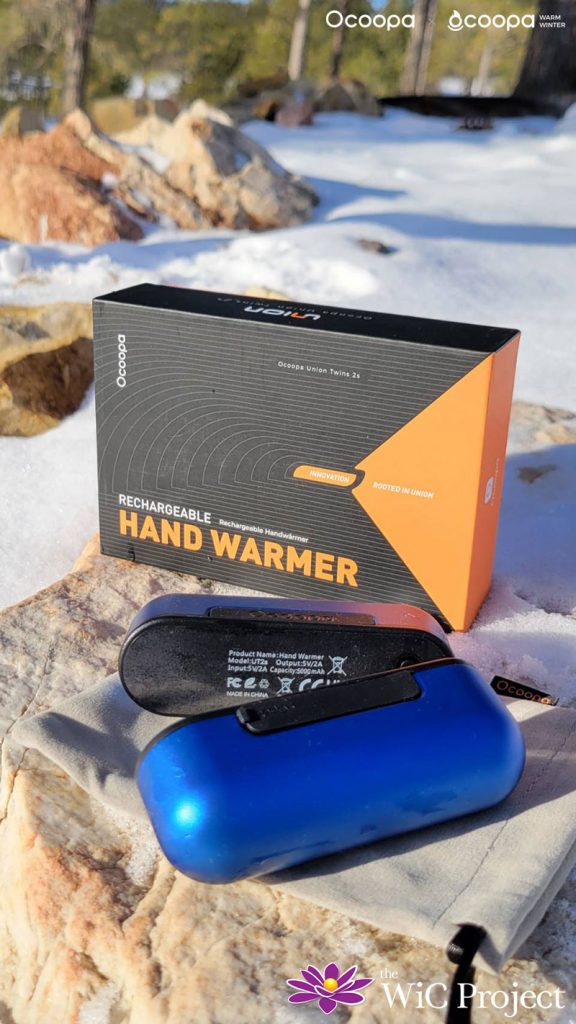 If you suffer from constantly cold hands or just want to keep your hands warm while outdoors, you should definitely buy hand warmers like the Ocoopa MagTwin Rechargeable Hand Warmers. For both quickly heating up your hands or for sustained warmth over time, the Ocoopa MagTwin rechargeable hand warmers delivered.
The option to use it as two hand warmers or a single hand warmer makes it versatile. And at a sub-$45 price, it's more budget-friendly than buying two separate hand warmers.
The fact that the hand warmers double as backup batteries for your phone makes this a year-round product to keep in your bag or car.
About Ocoopa
Founded in 2017, Ocoopa is an industry-leading provider of rechargeable hand warmers. With a dedication to quality, sustainability, and purposeful innovation, Ocoopa has created a product offering of classic and durable hand warmers, along with industry-first designs, such as their detachable and interchangeable Union series. Ocoopa offers rechargeable hand warmers in various shapes and power levels.
Where to Buy Ocoopa Rechargeable Hand Warmers
Ocoopa rechargeable hand warmers are sold on the Ocoopa website – www.ocoopa.com. Ocoopa is currently offering free shipping to the US, UK, Canada, Germany, France, and the Netherlands.
Select Ocoopa hand warmers are also available to buy on Amazon.com.
Ocoopa Rechargeable Hand Warmers
Starting at $29.99
Ocoopa Coupon Code
I'm excited to share an exclusive Ocoopa discount code just for readers! Save 8% off sitewide at ocoopa.com when you use code wicproject at checkout. Happy savings!
Ocoopa Hand Warmer Giveaway
The WiC Project Ocoopa Hand Warmer Giveaway