I attended a free Virtual Screening in exchange for my honest opinion.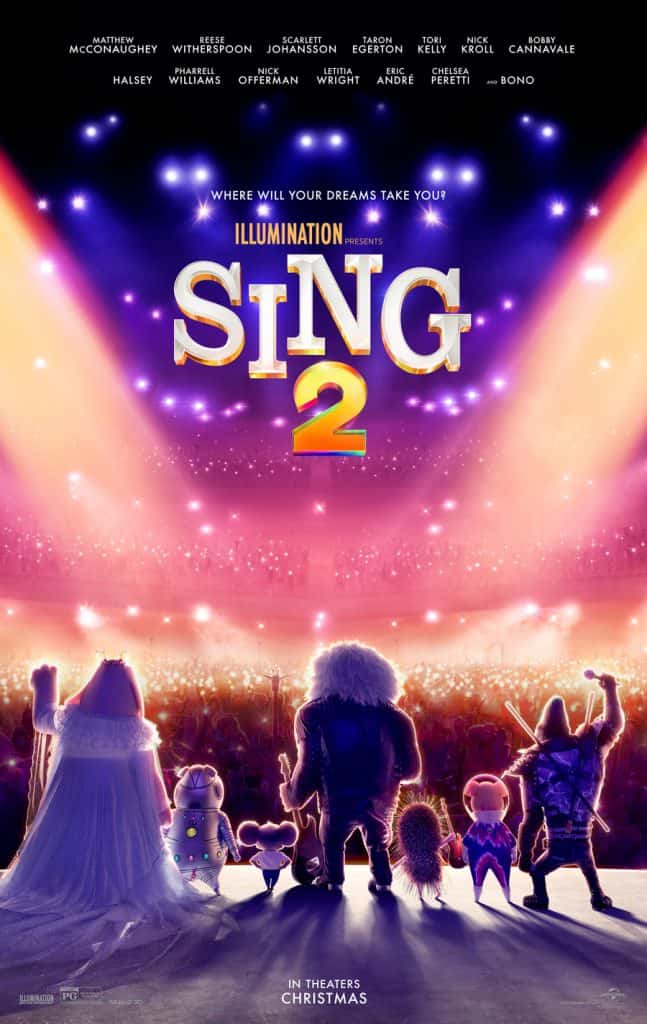 SING 2 is the second animated musical film in the SING franchise. This movie is produced by Illumination and distributed by Universal Pictures. It is chock-full of amazing talent: Matthew McConaughey, Reese Witherspoon, Scarlett Johansson, Taron Egerton, Tori Kelly, Nick Kroll, Bobby Cannavale, Halsey, Pharrell Williams, Letitia Wright, Eric André, Chelsea Peretti, and Bono. While it is a sequel, it works as a standalone. It is a family-friendly film.
The story opens with Buster Moon at his Moon Theater with his latest production as he spies a scout in the audience. When he sees her leaving, he's alarmed and chases her down. She tells him he's not good enough. Dejected, he's feeling sorry for himself when Nana tells him, "Fight for what you believe in!" Buster decides it's time to get the gang back together to go audition for Jimmy Crystal. After all, they have nothing to lose.
They rehearse as they travel in the bus. Getting in is harder than expected, so they creatively improvise. Watching act after act have their auditions canned by Jimmy, they accidentally get pulled on stage. Initially, Jimmy says no, but Buster is a fighter and starts making his case, when Gunter blurts out Sci-Fi Musical, Jimmy bites, and when Buster calls it Out of This World, Jimmy gives them the okay if, and it's a big if, they can get Clay Calloway to appear in the show. Buster says yes, despite knowing he doesn't have rights to Clay's song and Clay has been a recluse for 15 years.
They start right away rehearsing while Miss Crawly goes in search of Clay. A few unexpected snafus during rehearsals with several acts provide comic relief. But Clay isn't on board, and with Jimmy's threats to Buster, he's forced to go in search of Clay himself. Ash joins him on the quest. Clay is still saying no, drowning in the memories of his late wife Ruby, his muse. Ash has a way of drawing him out, using music to help him find his inspiration.
Back at rehearsals, things go awry, and a misunderstanding with Jimmy nearly costs Buster and the gang all. Everything rides on an impromptu plan: a one-night production behind Jimmy's back. The Musical Space Odyssey goes on, even with Jimmy's enforcers trying to stop the show. The question is will Clay perform? Afterwards, an offer from the Majestic Palace Theater is a dream come true.
Facing one's fears in the face of adversity is an overriding theme of the movie. There are several side stories within the movie which keep it apace the entire time and they add to the overall film. The music covers a lot of hits from the 70s, 80s, 90s, and 2000s. The soundtrack is phenomenal and Bono's "Your Song Saved My Life" is just beautiful—it fits Clay's character to a T.
SING 2 is a fantastic movie and the perfect family film for this holiday season. With the cast of characters acting as family, working together for success, even in the face of adversity, they prove you can overcome your fears and succeed: mission accomplished! The comedy and music will entertain you as you laugh and sing along. It's truly a must-see movie for this holiday movie season!
Universal's SING 2 will be released in theaters on Wednesday, December 22, 2021.
Sing 2 Movie Trailer
Sing 2 Online
Buy the Sing Movie Online