Gil and I love barbeque, regardless of the season. So when we had a warm (45F – haha!) day last week, we took our chance to break out the grill, throw on some charcoal, and cook up some tasty BBQ. While burgers and hot dogs are our usual fare, this time we had a special gourmet meat to enjoy – Beef Sausage Rope from Southside Market & Barbeque. In this Southside Market Review, we'll share everything you'll need to know about their Beef Sausage Rope, including how to cook beef sausage rope and how to order barbeque delivery.
I am a Southside Market affiliate and received a complementary Beef Sausage Rope for the purpose of this review. These are my honest opinions. Links may be affiliate links.
Meet Southside Market's Beef Sausage Rope
Southside Market & Barbeque has been serving up mouth-watering barbecue for over 130 years. The Beef Sausage Rope is one of their signature items. Weighing in at up to 2lbs each, and measuring up to 4 FEET long, their Fresh Original Beef Rope Sausage is made of coarsely ground beef and seasonings. They've been cooking up these rope sausages since 1882!
What sets Southside Market's Beef Sausage Rope apart from other sausages is its flavor profile. The sausage is perfectly seasoned with just the right amount of pepper, giving it a classic beef flavor that's sure to satisfy any meat lover.
In addition to its delicious taste, the Beef Sausage Rope is also incredibly versatile for meals. It can be enjoyed on its own, added to soup or gumbos, incorporated into your favorite pasta dish, and more.
How much does Southside Market's Beef Sausage Rope Cost?
A 2-pound beef sausage rope costs $25. Buy 2 packages (4 pounds) of Southside Market's Beef Sausage Rope for $40. Shipping is an additional fee and varies based on location and shipping speed. Keep reading to grab a coupon code so you can save on your next order!
Southside Market Beef Sausage Rope Review
Southside Market & Barbeque has had over 100 years to perfect their recipes and flavors, and you can taste it. As soon as the beef sausage rope hit the grill, the smell alone was enough to get your taste buds watering. A wonderful aroma wafted from the grill as the sausage cooked. After a quick 15 minutes on the grill, we were ready to give Southside Market's beef sausage rope a try. After the first bite, I knew we were in for a treat.
While it's simply seasoned with pepper, the sausage delivered a ton of beef flavor. The beef was tender and the sausage was perfectly moist. The pork casing did a great job keeping the fatty juices inside the rope as it cooked.
While we served it simply, you can enjoy this beef sausage in a variety of dishes. Smother it in BBQ sauce, cut it up and mix it in with pasta, or even serve it in a hot dog bun with some ketchup.
Southside Market & Barbeque Delivery
Fortunately, you don't have to live in Texas if you want to try this beef sausage rope, or any of Southside Market's other barbeque meats and sides. Southside Market & Barbeque ships their products throughout the United States, so you can enjoy its delicious meats and other products no matter where you live. Here's how to get Southside Market & Barbeque delivered in the US:
Visit the Southside Market & Barbeque website at www.southsidemarket.com.
Click on the "Shop" button in the menu at the top of the page.
Browse the selection of meats, seasonings, sauces, and other products available for purchase and add the ones you want to your cart.
Once you have finished shopping, proceed to checkout where you'll enter your shipping and payment information before completing your order.
Online orders ship frozen, packed with dry ice, and should arrive within 5-10 days.
Southside Market & Barbeque Coupon Code
I'm excited to share an amazing Southside Market promo code! For a limited time, use coupon code TXBBQ10 to save 10% off your entire online order! Please consider using my affiliate link to shop at Southside Market & Barbeque. 🙂
Southside Market & Barbeque
Starting at $25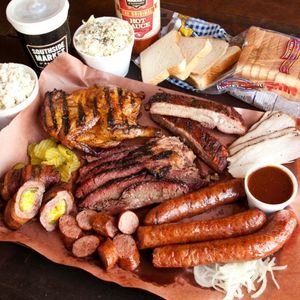 About Southside Market and Barbeque
Originally starting as a door-to-door fresh meat service in 1882, Southside Market & Barbeque has grown to become one of the oldest BBQ joints in Texas. A family-owned business, Southside Market is committed to using high-quality ingredients, smoking meats low and slow over real wood fires, and serving up classic Texas sides and homemade desserts. In addition, Southside Market's meats, seasonings, sauces, and other products can be ordered online, allowing fans of Texas-style barbecue to enjoy their delicious products no matter where they are. A visit to Southside Market & Barbeque, whether in person or online, is a must for anyone who loves good food and great hospitality.
How to Cook Beef Sausage Rope
If you've never cooked beef sausage rope before, you might be a little intimated. Don't worry! Cooking beef sausage rope is easy – whether cooked on the grill or in the oven! Here are some easy steps for how to cook beef sausage rope:
Important Cooking Note: Southside Market & Barbeque ships their BBQ meats frozen. All of their meats should be thawed completely before cooking.
Optional Step: For easier handling, and to help keep the spiral shape, use Butcher's twine or cooking string to keep the spiral shape.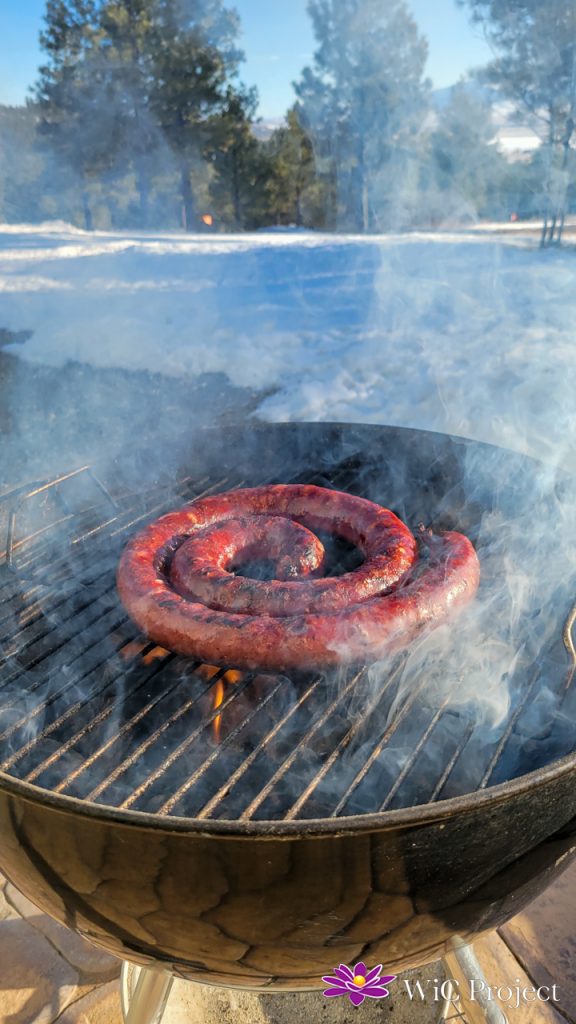 On the Grill:
Grill beef sausage rope over indirect heat at 300-350°F, turning the sausage once during cooking time. Grill fully smoked sausage for 15-20 minutes and fresh (raw) sausage for 40-50 minutes until 165°F.
In the Oven:
Preheat oven to 350°F. Place beef sausage rope in a shallow baking tray and bake for ~20 minutes, turning once during cooking. Remove once the internal temperature is 165°F.
Pan Fry/Sauté:
Heat beef sausage rope with 1-2 tablespoons of oil in a skillet or saute pan over medium heat. Turn several times to ensure even cooking. The sausage is ready when the internal temperature reaches 165°F. They will be plump with a taught casing and clear juices.
For all methods, the sausage is ready when the juices start breaking through the case.
Should I Cut Up Beef Sausage Rope Before Cooking?
It's best to keep your beef sausage rope whole and in one piece while cooking. This allows the casing to contain the juices while the sausage cooks. If you cut or break the casing, your sausage could dry out during cooking.
Southside Market Review: Final Thoughts
If you're a fan of savory, juicy, and flavorful sausages, you won't be disappointed by Southside Market & Barbeque's beef sausage rope! This unique and versatile meat is a perfect addition to any meat lover's kitchen. Whether you want to grill it up for a delicious backyard BBQ, slice it up or simply enjoy it as a snack, the sausage rope is sure to satisfy your taste buds.
If you're a fan of classic sausage rope, flavorful brisket, juicy pork ribs, or other BBQ fare, you can count on Southside Market to deliver authentic Texas BBQ flavor. So, what are you waiting for? Add mouth-watering BBQ and meats to your shopping cart and experience the savory goodness for yourself!