After decades of use, Gil's old hedge trimmer was starting to show a bit of wear and tear. So I was excited to get the opportunity to review the Sun Joe 24-Volt iON+ Cordless Hedge Trimmer Kit. I received this Sun Joe 24V Cordless Hedge Trimmer Kit at no cost in exchange for sharing my honest opinions.
In this review, we put the Sun Joe 24V Cordless Hedge Trimmer to the test. We'll discover how it performs in typical yard maintenance tasks, such as trimming hedges (obviously, LOL) and shrubs. We have more than enough bushes to really put the power and battery life to the test.
Keep reading to learn more about the Sun Joe 24V Cordless Hedge Trimmer Kit and see how well the Sun Joe 24V Cordless Hedge Trimmer worked for us. Hopefully it'll help you to decide if this cordless hedge trimmer kit is right for you.
Sun Joe 24-Volt iON+ Cordless Hedge Trimmer Kit Features
The Sun Joe 24 Volt iOn+ Cordless Hedge Trimmer Kit consists of the iOn+ 24 Volt System (a 2.0Ah lithium-ion battery and charger) and the cordless hedge trimmer.
The 22-inch cordless hedge trimmer has rust-resistant dual-action blades, a 200W electric motor that delivers up to 3,000 RPM, and a dual-handed grip.
Its safety features include a built-in safety switch to prevent accidental starting, a front hand guard, and a blade safety cover that quickly protects the blades.
This Sun Joe Cordless Hedge Trimmer uses an eco-friendly, no-fade power + performance 2.0 Ah battery that delivers up to 55 minutes of runtime after a full charge. The battery recharges in just 55 minutes.
24V Cordless Hedge Trimmer Kit by Sun Joe: Review
The Sun Joe 24V Cordless Hedge Trimmer Kit arrived with some quick assembly required. We just needed to attach the handle using the provided screws. After assembling the hedge trimmer, we plugged in the battery and let it charge. As advertised, the battery charged quickly – in under an hour.
First, we used the hedge trimmer for some much-need trimming of the bushes around the front of the house. These tend to get a little overgrown because we don't disturb them when we see birds nesting in the shrub.
The Sun Joe cordless hedge trimmer started up quickly and easily. The trimmer starts up simply by pushing in the safety lock button (located on the left side of the handle) and squeezing the trigger.
The hedge trimmer made quick work of our front shrubbery and didn't experience any drop in power as we continued to work.
The shrubs are a little worn from the rampant grasshoppers we've been dealing with, but the hedge trimmer made them look a LOT better maintained. (Side note, if you know how to get rid of grasshoppers, please let me know. 😉 ) Here's a quick before and after of the shrubs after trimming some off the top and sides.
One nice thing about this Sun Joe hedge trimmer is that it's decently lightweight (6.2lbs with the battery.) This especially matters if you have to lift the hedge trimmer up or are working for an extended period of time. Gil noticed an immediate difference in weight between the Sun Joe 24V cordless hedge trimmer and his old cordless trimmer, remarking how his arms didn't feel worn or tired at all after using the Sun Joe trimmer.
Another advantage of using a cordless hedge trimmer is that we can use it to maintain areas far from the house. We have acres of brush, weeds, and shrubs that need to be pruned and maintained as part of wildfire protection. It would be impossible to do this type of work while tethered to an extension cord.
Overall, the Sun Joe 24-Volt iON+ Cordless Hedge Trimmer Kit delivered everything we needed in a hedge trimmer. It was easy to use, reliable, did the job well, and was noticeably easier on the body to use.
The Sun Joe 24V Cordless Hedge Trimmer Kit is fairly priced at $129.99 on snowjoe.com. It's currently on sale on Amazon.com and Walmart.com for just $85.63.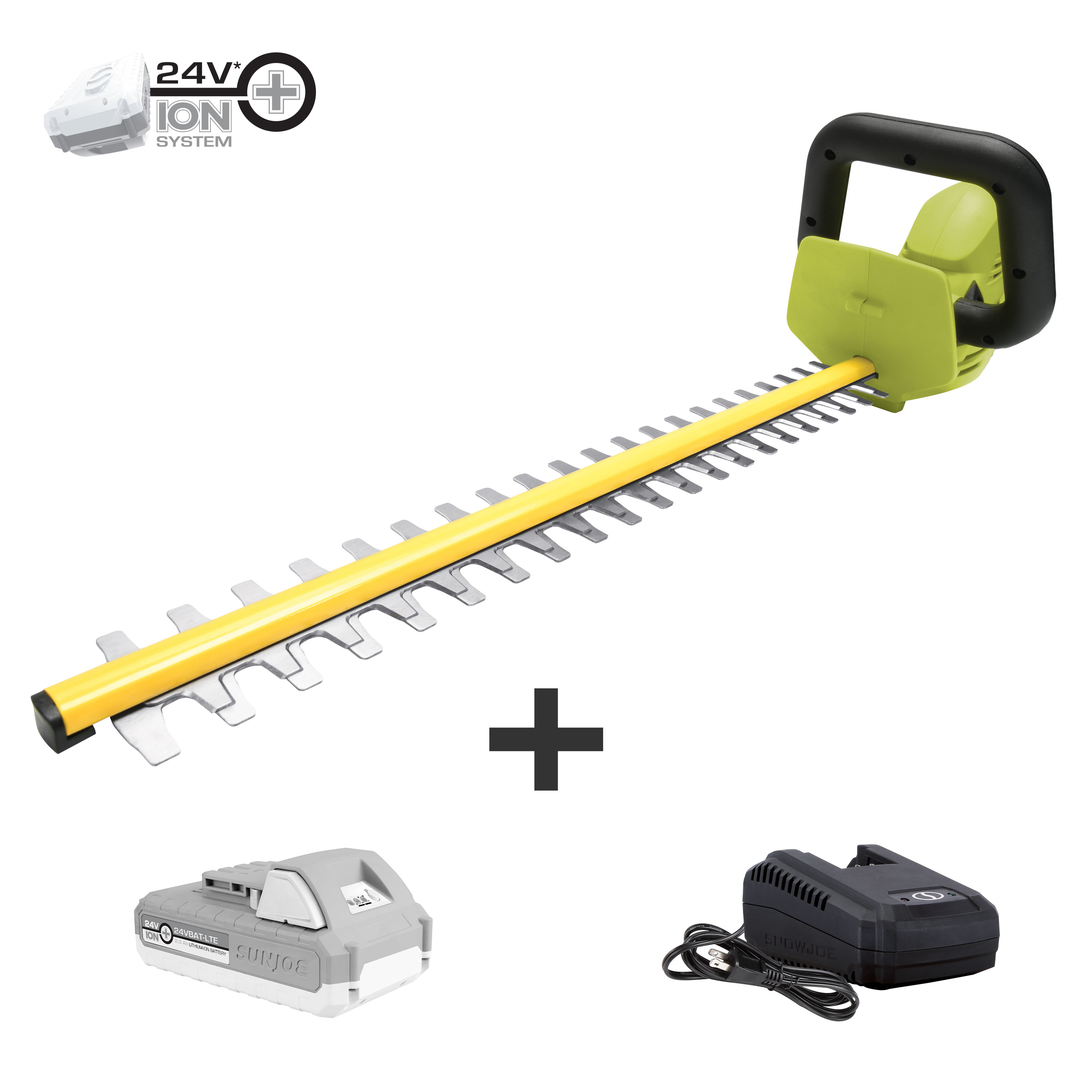 Sun Joe 24V-HT22-LTE 24-Volt iON+ Cordless Hedge Trimmer Kit
Where to Buy Sun Joe Products
The Sun Joe 24-Volt iON+ Cordless Hedge Trimmer Kit, along with other gardening and lawn care tools and essentials, are available online at www.snowjoe.com. Snow Joe offers high-quality and affordable outdoor tools for every season – from electric snow shovels and snow blowers to air compressors and lawn mowers.
Select Sun Joe and Snow Joe products are also on sale on amazon.com, at Walmart, and The Home Depot.
Suggested Cordless Hedge Trimmer Accessories
Here are a few accessories to consider for your Sun Joe 24V Cordless Hedge Trimmer.
Extra Battery:
We generally get two batteries for our cordless tools (so one is charging while the other is working.) Because the battery charge aligns with the runtime, this means you can use the strategy of swapping batteries for hours of continuous yardwork. This Sun Joe cordless hedge trimmer uses the Snow Joe + Sun Joe iON+ 24VBAT-LTE EcoSharp® LITE Lithium-Ion Battery.
Snow Joe + Sun Joe iON+ 24VBAT-LTE EcoSharp LITE Lithium-Ion Battery | 24 Volt | 2.0 Ah
Machine Oil/Lubricant
To get the most out of your yard tools, it's important to take care of them. Cleaning your hedge trimmers will help you get the best performance year after year. Clean the blades using a scrubbing brush and warm, soapy water. After cleaning and letting the blades dry, make sure you lubricate the hedge trimmer blades with a lightweight machine oil like 3-IN-ONE Multi-Purpose Oil.
Safety Glasses
Protect your eyes from leaves, branches, debris, and dust with a good pair of safety glasses. Choosing wrap-around glasses like these Dewalt Safety Goggles will also help prevent potential eye irritants that try to sneak around the edges of the frame.