I received a free digital screening in exchange for this honest review.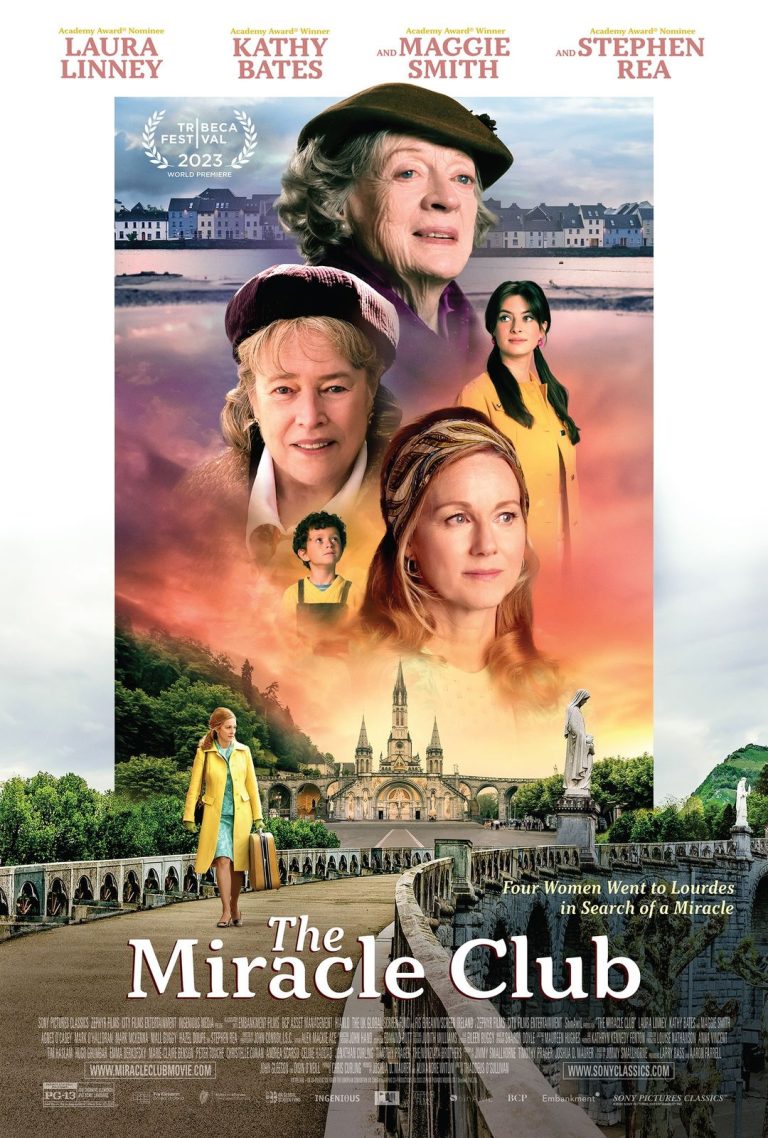 THE MIRACLE CLUB from Sony Pictures Classics with Zephyr Films and City Films is directed by Thaddeus O'Sullivan. The period film has elements of drama and comedy. With a strong female cast, the leads include well-known stars Laura Linney, Maggie Smith, Kathy Bates, and Agnes O'Casey. It is rated PG-13.
The Miracle Club is set in 1967, in Ballygar, Ireland, which is near Dublin. Three generations of women are dressing in matching floral dresses in their respective homes before heading to a church fundraiser talent contest where they hope to win tickets to a pilgrimage trip to Lourdes, where miracles happen.
We see Dolly taking money from a secret cubby, Eileen swallowing valium, and Lily having a poignant moment looking at the memorial to her son who died forty years prior. The fourth member of their group has recently passed away, but they've decided Maureen would want them to go on and perform. A last-minute name change for their group to The Miracles isn't enough to win the tickets when a young boy sings beautifully. They settle for the second-place bacon joint, but the young lad knows how important it is for them to go on their quest—he wants his young friend to get his voice back—and he gives his tickets to them.
At the same time, another woman has returned to town for her mother's funeral. Chrissie is well dressed and looks out of place in the small working-class village. The priest explains why no one was at the church, gives her the key to her mother's home, and when she arrives at the fundraiser, she's met with hostility by the two older women.
Following the funeral on the next day, Lily grudgingly gives a note to Chrissie from her late mother, Maureen. Chrissie goes through the house and finds a few keepsakes, and from the letter, she learns her mother apologized for banishing her from home and things said, and asks her to go on the trip in her place. Chrissie instead gives the ticket to the priest to donate to another.
Convicted to go on the trip, each woman uses a ruse to get out of the house, despite the protests from their husbands—the trip to Lourdes means that much. Chrissie shows up at the last minute.
The journey to Lourdes is not quite what they expected, old wounds are opened, and nothing is going well. Learning miracles don't occur for everyone and the odds are against them when a nun disclosed that only 62 have occurred since 1858, they are disheartened. While the priest assures them there is always hope, the pilgrimage to the Grottoes at Lourdes is not about receiving a miracle, but rather "You come for the strength to go on when there is no miracle."
Gathered together, angry words are exchanged, till they share deep hidden secrets and the true reasons for their pilgrimage, while assuring Dolly she's not responsible for her son's inability to speak, and another seeks peace, not absolution. It leads to a detente and understanding within the group.
As they return home, anger is replaced with forgiveness and love, friendship is rekindled, and a new relationship is formed with all the women. The husbands have also found a new appreciation for their wives. In the end, there is one unexpected moment, a possible miracle, if you listen to what you find at Home.
THE MIRACLE CLUB is a beautiful movie with an intergenerational group of women seeking answers to unresolved parts of their lives. While not a faith-based movie, faith and believing in miracles is a strong part of the journey, and it gives them hope. Confronting the past gives them the capacity to move forward with fresh eyes and new purpose. The pilgrimage to Lourdes wasn't a waste—their lives were all changed.
The Miracle Club Official Trailer