I attended a free Virtual Screening in exchange for my honest opinion.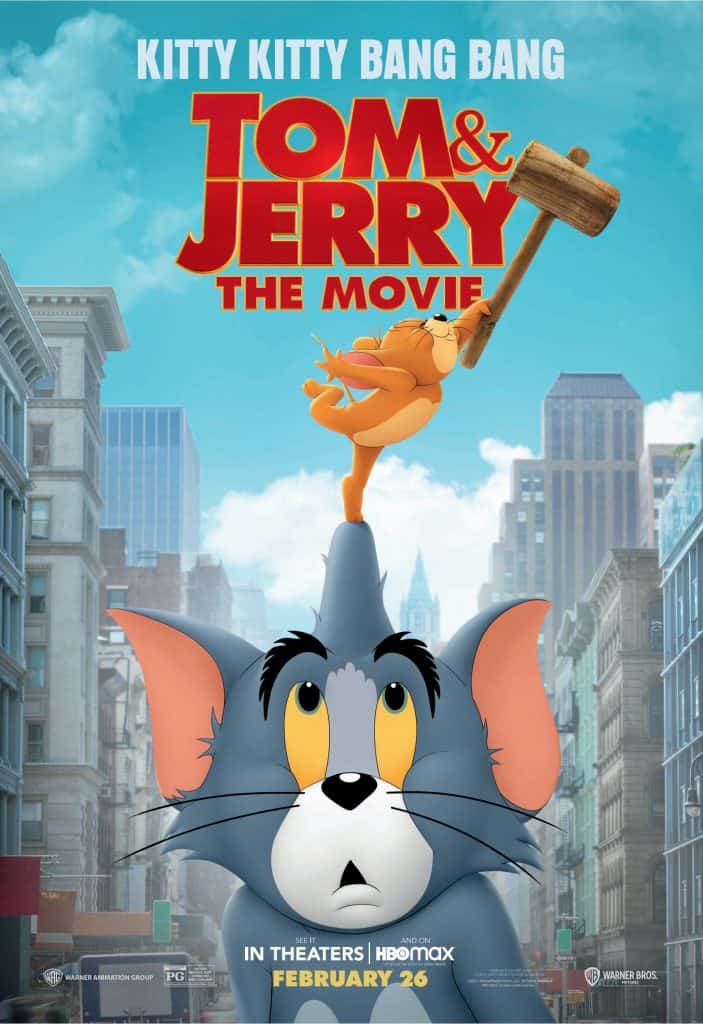 TOM & JERRY THE MOVIE is a hybrid of live-action and computer-animated slapstick comedy. A diverse cast of well-known comedic talent combined with a fantastic soundtrack creates a very entertaining motion picture. The classic Hanna-Barbera duo are brought to you by Warner Bros. Pictures and Warner Animation Group and can be seen in theaters and on HBO Max. Rated PG, Tom & Jerry The Movie is a family-friendly movie appropriate for all ages. 
Whether or not you grew up watching Tom & Jerry cartoons on TV, this movie delivers on the cat-and-mouse antics the duo is famous for. Set in New York City, the pair meet and compete by busking in Central Park till Tom is found out as a fraud. Trying to survive, the chase is on till they get to the Royal Gate Hotel. While Jerry manages to get in and set up an apartment, Tom is desperately trying to get inside, and when he does, chaos ensues.
At the same time, Kayla finds herself out of a job and wanders into the hotel to steal the cookies left for guests. She cons a job applicant and manages to get that woman's interview and sweet-talks her way into a job as a temp for the upcoming wedding event. Terence, the event manager, sees through her, but the manager Mr. Dubros buys her story. She befriends the bartender, Cameron, and they work together nicely. A wacky bellhop named Joy is quirky and knows more than people give her credit for. Rounding out the staff is Ken Jeong as the head chef in the kitchen.
The wedding couple arrives–the groom keeps making the wedding bigger, and the bride goes along because she doesn't want to disappoint anyone. The simple Indian wedding has become larger than life. Preeta (Pallavi Sharda) is charmed by Kayla, who is sympathetic to Preeta's predicament. Ben (Colin Jost), her groom, is full of ideas and has all kinds of electronic toys.
As Jerry is discovered, he and Tom destroy a room. Kayla hires Tom to get rid of Jerry, but in the end, she decides if they can work together, they could help her pull of the wedding event, which could lead to a full-time job.
The capers of the cat and mouse, combined by the over-the-top wedding extravaganza, and the diabolical Terence, threaten everything Kayla has worked for. Kayla, Tom and Jerry, plus Cameron, have one shot to save everything, and it will take an epic comeback to work together and fix it all.
The mayhem we expect from frenemies Tom and Jerry, accompanied by contemporary music, creates the feel of the old cartoons, but the modern setting and plot in New York City makes the movie current. Full of belly laughs and adventure, the movie is entertaining, nostalgic, and fun to watch.
#TomandJerryMovie is in theaters and streaming exclusively on HBO Max on February 26!
Tom & Jerry The Movie Trailer
Tom & Jerry Online