As we head into the holiday season, many people get excited about counting the days to Christmas. A fun and surprising way to get into the countdown is with an Advent Calendar. Over the years, Advent Calendars have evolved beyond just basic chocolates. Now there are advent calendars to satisfy a variety of interests and tastes – from makeup and skincare products to charcuterie and wine. Offering a surprise gift each day, they've quickly become a popular holiday gift. Whether you're shopping for a mom, wife, girlfriend, sister, or grandma, these advent calendars for women deliver a daily dose of joy.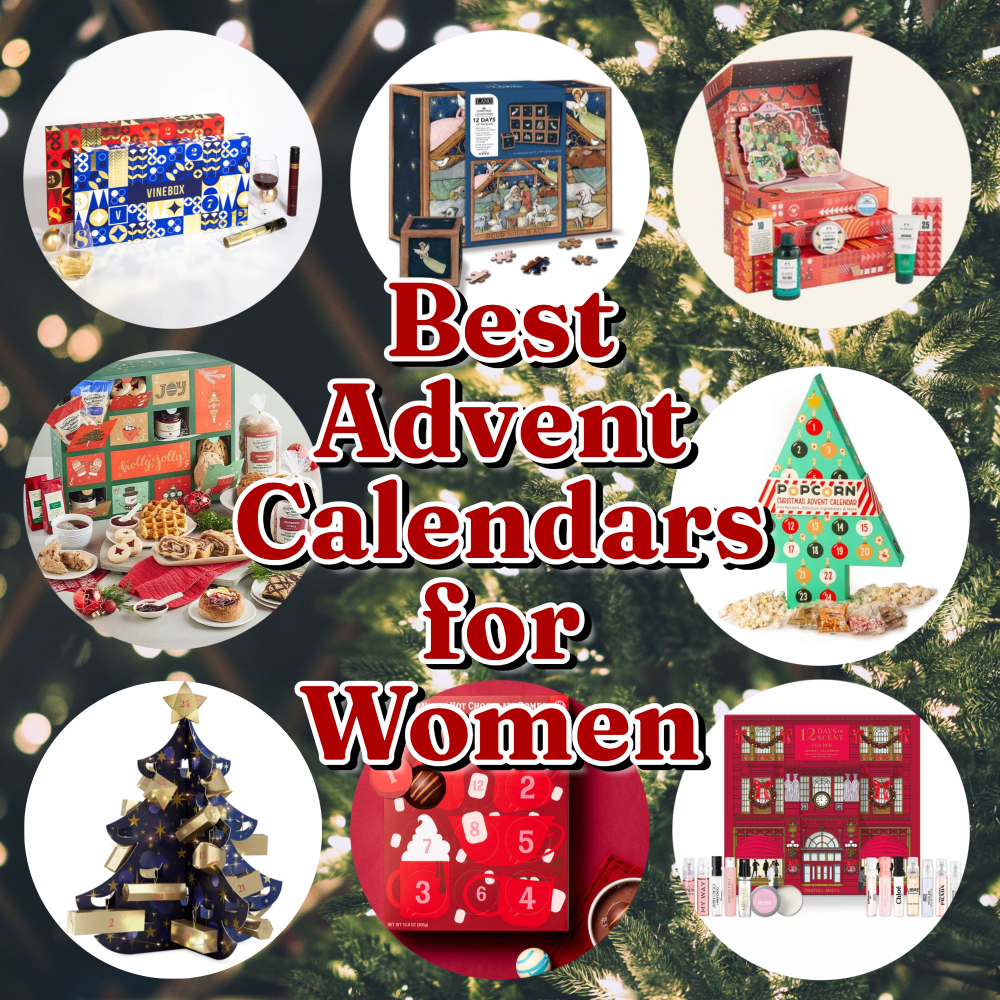 From lip balms to wines, check out the unique Advent Calendars we've found that are sure to add some festive fun to the holidays.
Looking for more holiday gifts to shop for your loved ones (or yourself)? Check out all of the Advent Calendars in Miriam's Boutique.
Beauty Advent Calendars | Beer & Wine Advent Calendars | Candy & Chocolate Advent Calendars | Advent Calendars for Kids
Our Top Pics for the Best Advent Calendars for Women 2023
BUDGET BEAUTY ADVENT CALENDAR
12 Days of Beauty
From eye cream to mascara to brow gel, this beauty Advent Calendar from Macy's has a little bit of everything to help a woman look her best. There are 12 different beauty treats with a $149 retail value and a $10 coupon towards your next Macy's Beauty purchase.
FOR WINE LOVERS
12 Nights of Wine Advent Calendar
Sip on a new wine each night with the elegant Advent Calendar. Featuring hand-picked wines from renown wine regions like Italy, France, and California's wine country, you can choose an Advent Calendar of Red Wine or White Wines and Rosés or get both for 24 nights of wine.
FOR COOKIE LOVERS
12 Days of Christmas Cookie Advent Calendar
Spread holiday cheer with this edible Christmas calendar packed with 12 days of cookies! Behind each door of the Cheryl's Cookies 12 Days of Christmas Advent Calendar lies a festive cookie in a surprise flavor – perhaps it's a frosted holiday cutout, chocolate mint, or cinnamon roll cookies. However you choose to enjoy them, these holiday-themed treats deliver smile-inducing goodness!
PAMPERING SKIN CARE AND HAIR CARE
The Big Advent of Change
Unwrap 25 days of pampering surprises with The Body Shop's The Big Advent of Change beauty advent calendar. Inside each individually packaged box lies a delightful body treat like indulgent body butters, relaxing scrubs, hydrating masks, smoothing shower gels, and more. The Body Shop expertly crafts their products using ethically sourced, high-quality ingredients designed to nourish and care for your skin. Treat yourself or a loved one to a moment of indulgence each day with this collection of refreshing, skin-loving surprises.
FRESH BAKERY TREATS
Wolferman's® Advent Calendar
Countdown to Christmas morning with Wolferman's indulgent Advent Calendar. Behind each festive window lies a tasty bakery treat handcrafted with quality ingredients. Discover flaky scones, fluffy waffles, super-thick English muffins, rich coffee, and more. Highlights include cinnamon raisin English muffins, blueberry Belgian waffles, dark chocolate chunk scones, and caramel pecan coffee. With 12 days of delightful surprises, it's a foolproof way to spread holiday cheer.
FOR TEA DRINKERS
Palais des Thes Tea Bag Advent Calendar
Add a spot of seasonal delight to your December mornings with this tea Advent Calendar. Behind each numbered door lies a tea surprise hand-picked by Palais des Thés tea experts. Sip your way through gourmet tea blends, infusions, and estate teas, with indulgent flavors like Chai Imperial, Saint-James, and Jardin a la Francaise. Treat yourself to a different gourmet tea experience each day leading up to Christmas. It's a thoughtful gift for the tea lover in your life or a way to add self-care to your own busy holiday season.
FOR PERFUME LOVERS
12 Days Of Scent For Her Advent Calendar
With an exciting new scent to spritz on every morning, this perfume advent calendar from Macy's will be something she'll look forward to opening each day. Behind each numbered door lies a sample size perfume from top designer brands like Chloe, Prada, and YSL. Discover bold scents, alluring florals, and warm orientals specially selected by Macy's fragrance experts. Finish off the countdown with a bonus scented Lovery rose candle for the perfect fragrant finale. It's the ultimate gift for the perfume lover or an indulgent treat for yourself.
HOME & BODY FRAGRANCE
The Ritual of Advent 3D Advent Calendar
Rediscover the magic of the holidays with indulgent shower gels, nurturing creams, relaxing soaps, and soothing masks. Behind each numbered door lies a pampering beauty surprise worth over $213. Unwrap 24 luxurious mini products from The Ritual of Sakura, Karma, Jing, and more signature collections. Let this unique advent calendar bring joy and self-care to your holiday season.
LUXURY SKINCARE
Dr. Barbara Sturm Skin Care Advent Calendar
Pamper yourself this holiday season with the Dr. Barbara Sturm Skin Care Advent Calendar. Housed in a stunning jewelry armoire-style box, this calendar reveals 24 skincare treats to countdown to Christmas. Discover Dr. Sturm's most beloved skin care and anti-aging products in deluxe and travel sizes, plus exciting new launches. Soothe and revitalize your skin with indulgent creams, serums, masks, drops, and more.
FOR CHAPSTICK ADDICTS
ChapStick 12 Days Holiday Advent Calendar Lip Balm Gift Set
Keep lips happy and hydrated with this playful ChapStick holiday calendar. Behind each festive door lies a different flavored lip balm in a festive flavor like Candy Cane, Sugar Cookie, Pumpkin Pie, and Holiday Cocoa. The lip balms' moisturizing formula smooths and softens, leaving lips touchably soft while nourishing dry, chapped lips. With 12 days of amazing lip loving, this lip balm calendar ensures your smile stays smoothed all season long.
FOR JEWELRY LOVERS
12 Days of Sparkle – Jewelry Advent Calendar
Unwrap dazzling jewelry surprises worth over $400 hiding with the Fragrant Jewels Advent Calendar! Behind each door is a piece of jewelry from one Fragrant Jewels's best-selling jewelry collections, including sterling silver rings, and earrings. Receive a total of 12 18k gold & rhodium plated and sterling silver jewelry items that deliver some serious sparkle in this calendar.
HOT COCOA FOR DAYS
Hickory Farms 12 Days of Hot Chocolate Bombs
Hot chocolate is especially delicious during the holidays. With this hot chocolate advent calendar from Hickory Farms, you can count down the final 12 days to Christmas with a delicious mug of premium hot cocoa each night. Each day features a unique cocoa bomb and 12 mini bombs are included.
FOR CHOCOLATE LOVERS
Charbonnel et Walker Holiday Chocolate Truffle Advent Calendar
Charbonnel et Walker, Britain's chocolate boutique of choice since 1875, brings us this gourmet chocolate Advent Calendar filled with decadent, handmade chocolates. Opening each drawer reveals a gold box that contains one of 25 different chocolates and truffles in flavors like Milk Fudge Vanille, Dark Truffle Café, Gingerbread Truffle, and Dark Noisette Cream. Whether you share it with loved ones or enjoy it solo as a moment of me-time and indulgence with each irrestistible treat, this calendar promises a taste of luxury and charm in every carefully crafted chocolate.
FOR POPCORN LOVERS
Popcorn Advent Calendar
When you want to go beyond boring buttered popcorn, this popcorn advent calendar delivers. With 24 different surprises, you'll get everything you'll need to create festive popcorn treats. Includes gourmet popcorn kernels, popcorn seasoning, and recipes.
FOR SNACKERS
Hickory Farms 12 Days of Charcuterie Advent Calendar
Share the joy of the holidays with this mouthwatering calendar, perfect for savoring solo or savoring with friends and family. Behind each numbered drawer is a delicious savory or sweet treat. Reveal tasty surprises like spicy beef summer sausage, farmhouse cheddar, sweet hot mustard, chocolate truffles, and more. With 12 days of gourmet flavors, it's a foolproof gift for the foodie in your life or a clever way to add festive flair to your own holiday season.
FOR BOOK WORMS
The Book Lover's Advent Calendar
The Book Lover's Advent Calendar is a bibliophile's delight, with 25 bookish surprises hidden behind each door to unwrap from December 1st to Christmas Day. Inside you'll find charming novel bookmarks, book-themed ornaments, creative stickers, bookish gift tags, and more. It's a unique literary gift for the book reader in your life (or yourself!) to enjoy as you countdown to the holidays. Break up busy days of shopping and party prep with an afternoon lounging by the fire, inspired by that day's bookish surprise. This calendar is sure to spark holiday cheer for book lovers young and old.
FOR PUZZLE LOVERS
12 Days of Puzzling Advent Calendar
Enjoy a puzzling countdown to Christmas with the LANG 12 Days of Puzzling Advent Calendar. Each puzzle box contains a small puzzle that creates one large holiday scene when combined together. Assemble each of the 12 daily puzzles as you countdown to the big picture reveal on Christmas! Combine the completed small puzzles to complete the final puzzle. This interactive calendar provides hours of festive fun for puzzle lovers and makes a thoughtful gift for family or friends.
FOR DOG OWNERS
Bonne et Filou Dog Treat Holiday Advent Calendar
Pamper your pooch this holiday season with this charming Advent Calendar for dogs. Behind each window is a delicious surprise like indulgent truffles, hearty bones, and fancy macarons your pup will adore. Countdown to Christmas morning together with 24 days of gourmet dog biscuits handmade in the USA using human-grade ingredients. Made locally, these all-natural treats contain no artificial ingredients. Show your dog some extra love this December with this adorable advent calendar.